Who Needs a Pool…An Alternative to Sunbathing in Palm Springs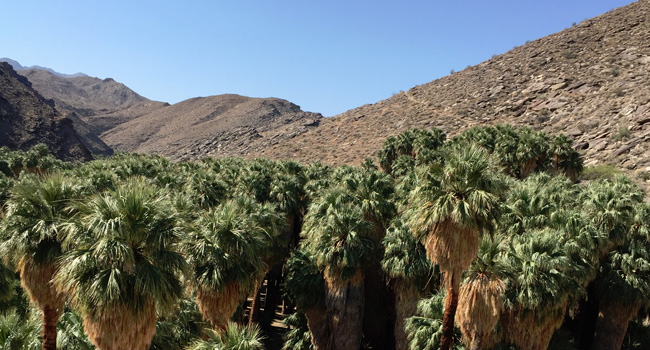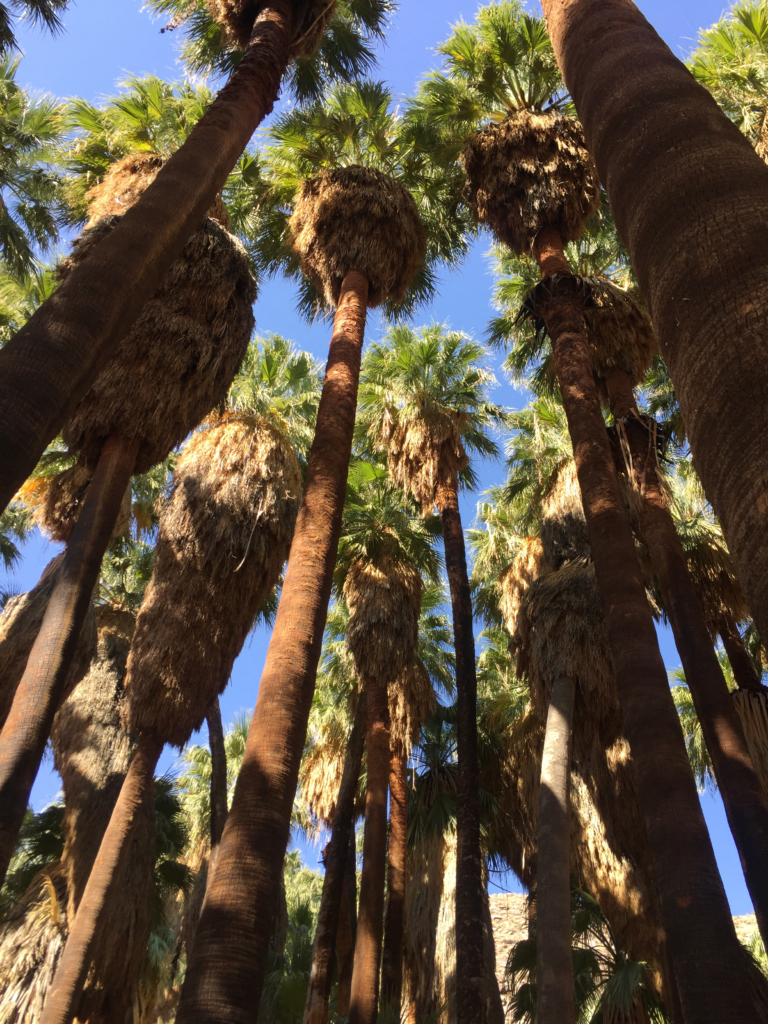 The immediate thought that comes to mind for a visit to Palm Springs is a beautiful resort with azure blue pools and perfectly tanned bodies laying on perfectly positioned chaise lounges, right? I agree, but there are so many other things to enjoy besides a day at the pool when visiting this desert oasis.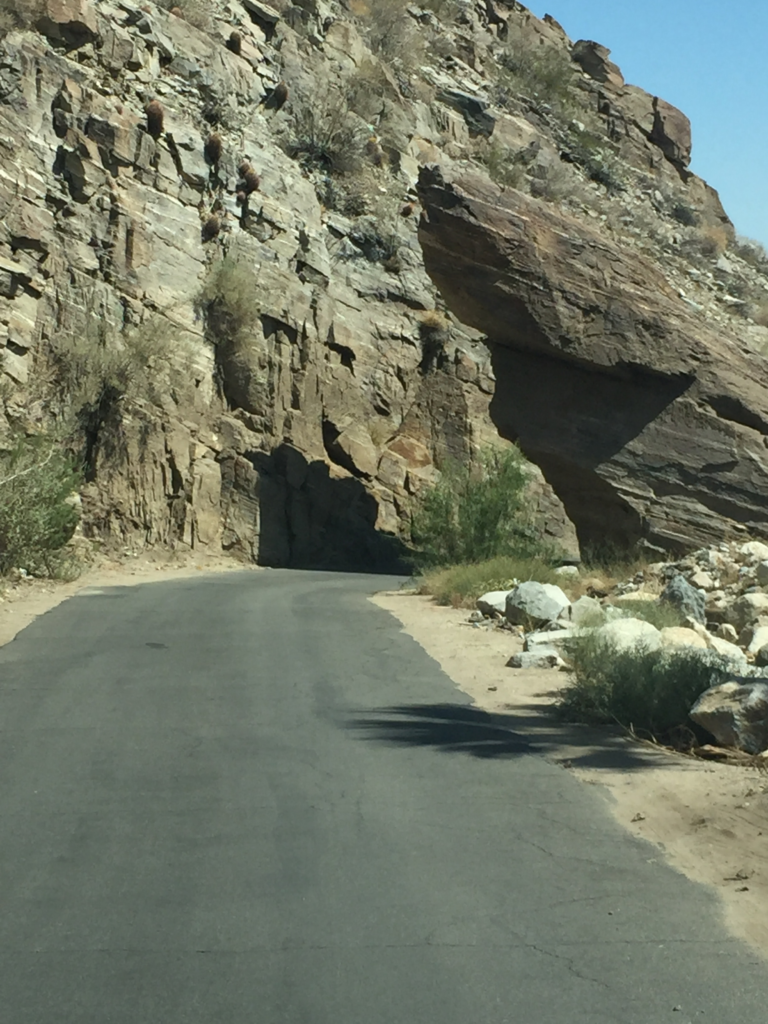 An alternative to the pool scene are the Indian Canyon hiking trails, a quick 10 minute drive of the resorts lining Highway 111 in the downtown Palm Springs area. The canyons, ancestral and sacred home to the Agua Caliente Band of Cahuilla Indians for thousands of years, are open to the public to enjoy.
The area is made up of three main areas to explore; Andreas, Murray and Palm Canyons. Palm Canyon was the choice for our early morning hike.  Consider getting to the trailhead for a very early start if you will be hiking in warm weather.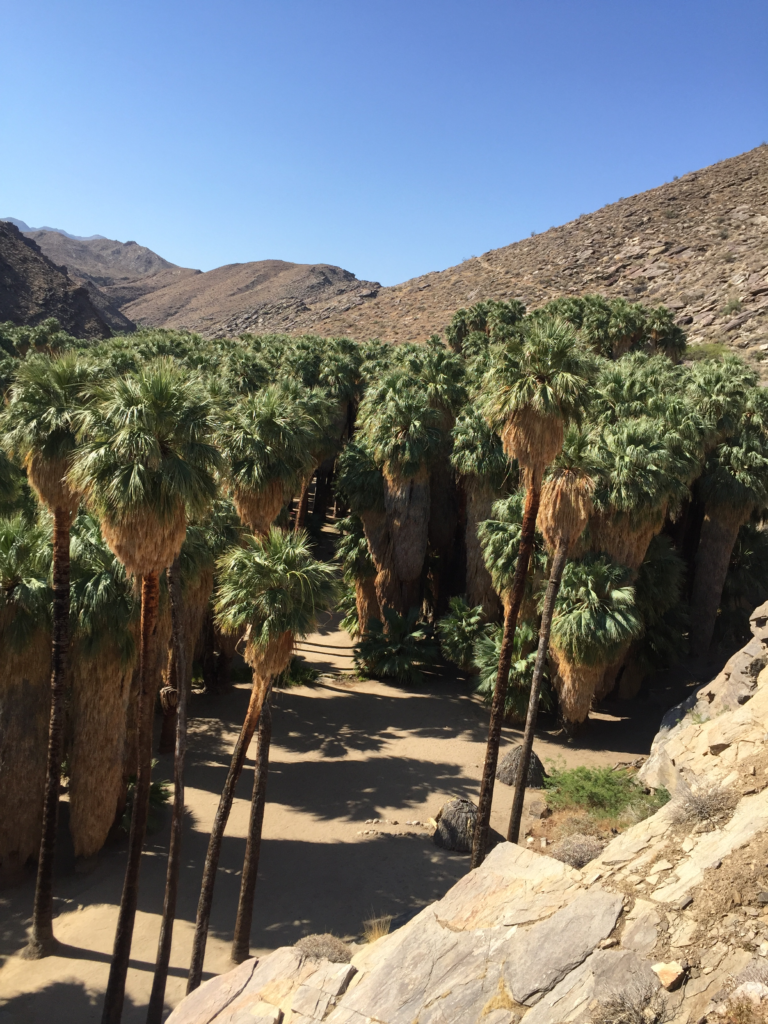 Palm Canyon is a gorgeous 15 mile long canyon with indigenous floral and fauna, and towering California palms. At first glance from the trailhead near the trading post located high above the canyon, the palms look almost out of place with the starkness of the rock formations lining the canyon.  It's an amazing first view of the trail!
The trailhead is easily marked and begins with a steep downhill semi-paved and gravel walkway, which connects with the base of the canyon. From there, the trailhead is easy to follow and with a map in hand, you can chart out a short or extended hike.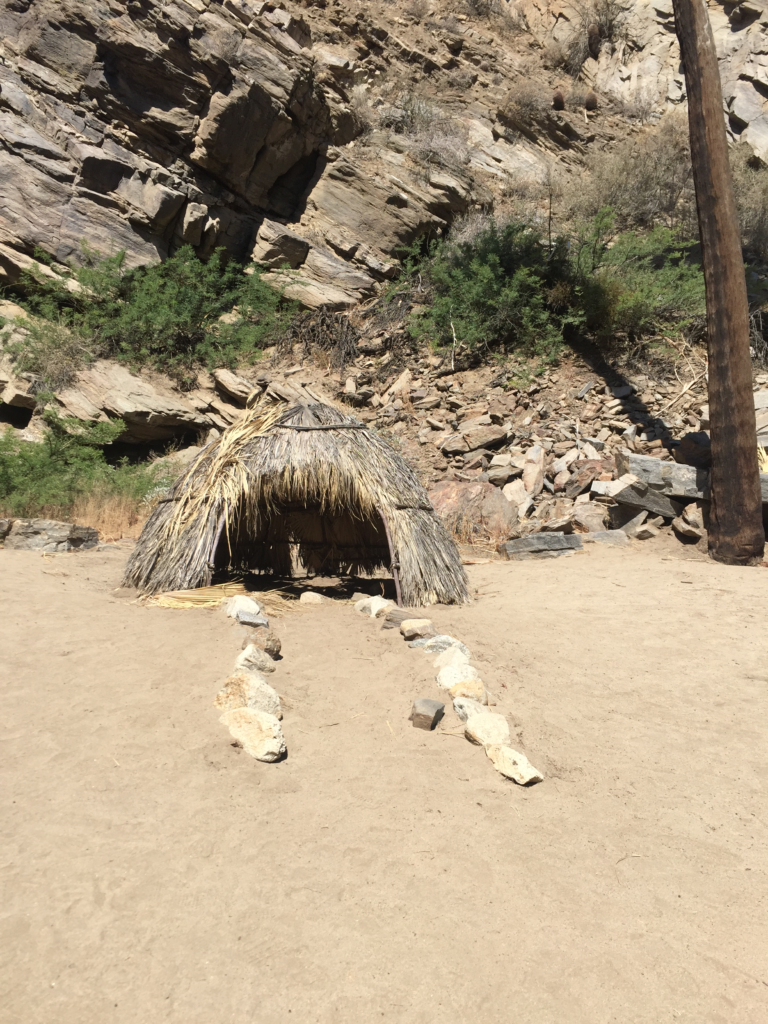 Within a few minutes on the trail, we came across a Cahuilla dome-shaped brush home. This type of shelter, referred to as a "Kish",  is made from bending willow branches and covered with palm fronds or other plants. The Kish has a front opening and hearth in the center on the floor, with a hole at the top of the roof for smoke to escape. A simple dwelling for the purpose of protecting the Cahuilla from the harsh sun or cold nights in the desert.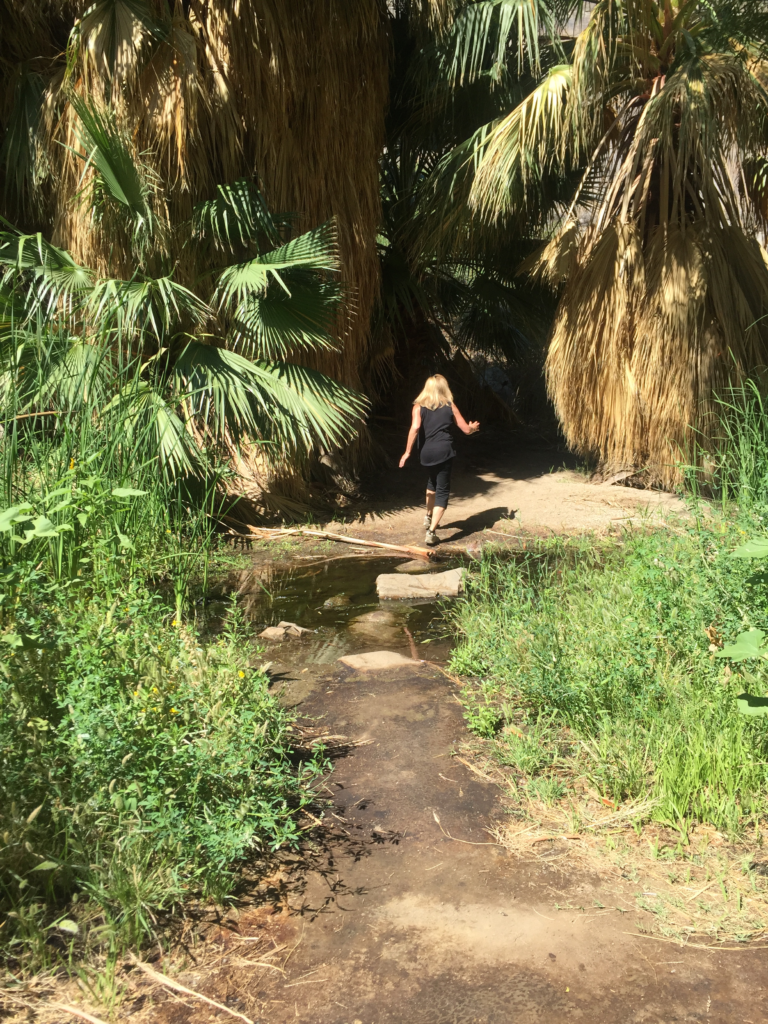 Moving forward the trail parallels alongside a water-filled stream.  The trail crosses the stream in several locations. Don't worry, there are rocks to hop across and if you are careful, you will not get wet!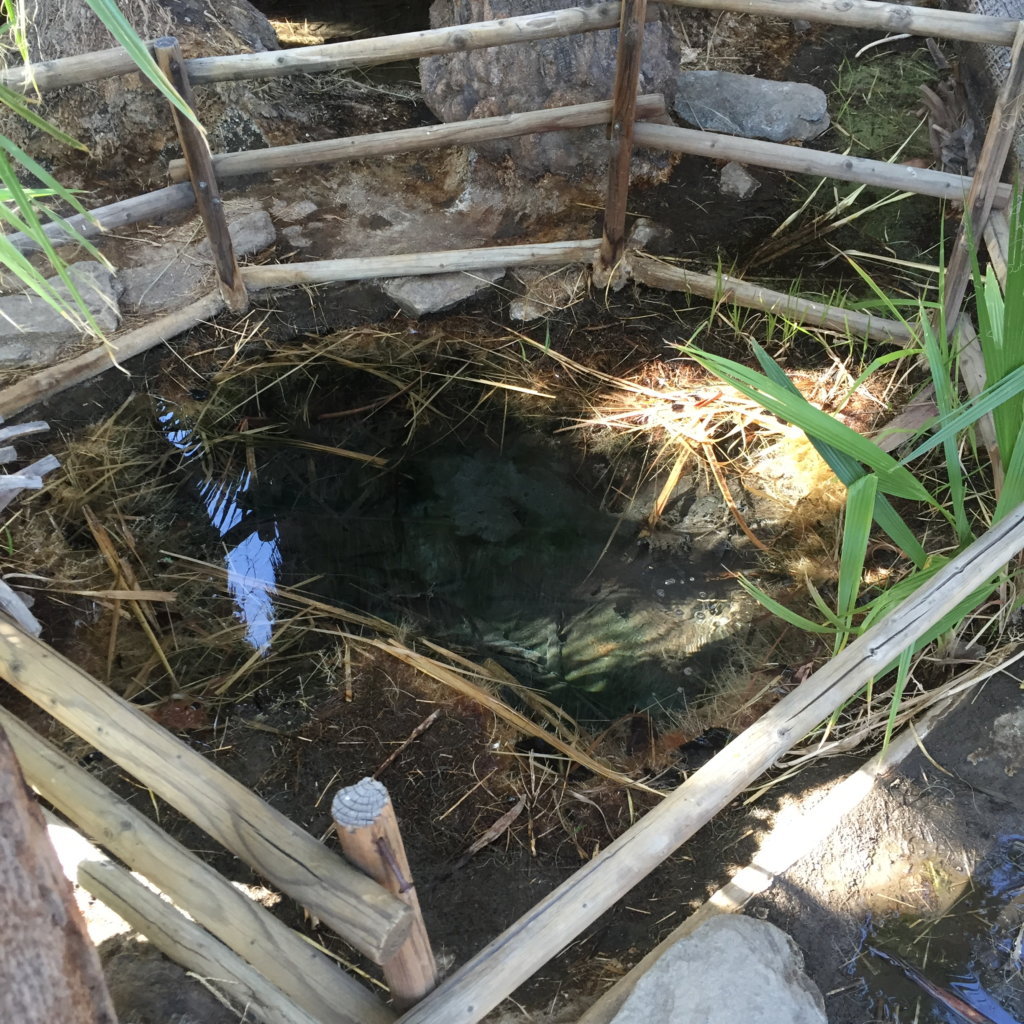 There are several natural springs with bubbly water, cordoned off by the park ranger for you to view without disturbing.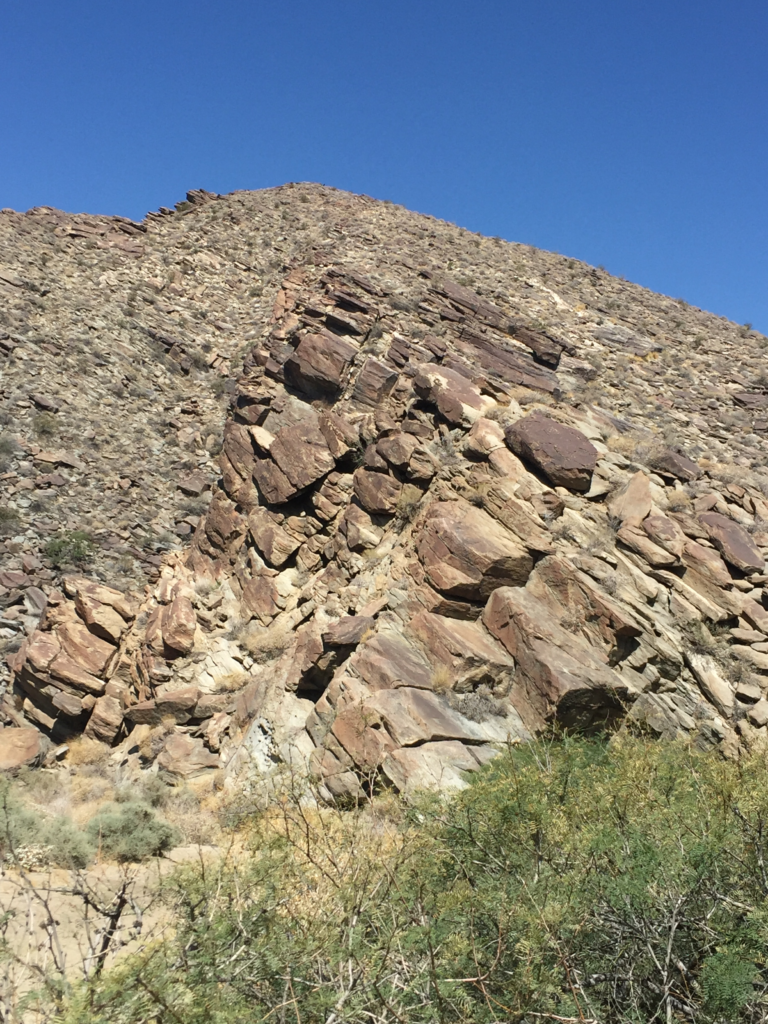 The trail passes by unique and beautiful rock formations, and there is some evidence of rock art, food preparation areas, irrigation ditches and other Cahuilla historical items that you might see on your hike.  If you are a seasoned hiker and adventurous, a longer hike in Palm Canyons will end at stone pools, with seasonal waterfalls.
Palm Canyon has trails marked easy, moderate and strenuous, so you will likely find the right trail for your group's hiking level.
The other two canyons are worth exploring as well:
Andreas Canyon offers a lush trail that follows a year round stream, unusual rock formations, beautiful plant species, and historic Cahuilla remnants.
Murray Canyon offers numerous trails and often Big Horn Sheep, mule deer and endangered species of birds can be seen on these trails.
The Indian Canyons are open from 8:00am – 5:00pm daily and there is a charge of $9.00 per adult, $7.00 per child (6yr-12yr), and no charge for military to enter the property. All canyons are accessed through the tollgate.
When you are done with this hike, you'll want to head back to your hotel and enjoy the pool!
Tips for a successful day hike:
Bring enough water for each hiker. There are areas of this trail that are completely open to the elements, and during the warmer weather, gets very hot and dry. Bring as much water as you can carry, and when you are halfway done with your allocation, turn around to ensure you'll have enough to get back to your car!
Daytime temperatures during much of the year can dip into the 100's, so make sure to have sunglasses and suntan lotion. If you don't heed this advice, and are burned to a crispy critter, you have no one but yourself to blame!
The trailhead is lined with warnings of snakes. We didn't see any on this hike, but have in other hikes in this area, so stay on the trail and keep an eye out, especially in warm weather.
Trailmaps will be provided at the tollgate. Plan your hike based on the abilities of everyone in your group to ensure a fun and safe hike!