5 Unique Things To Do In Catalina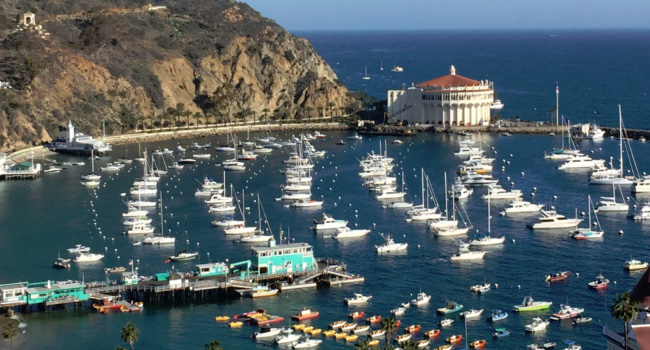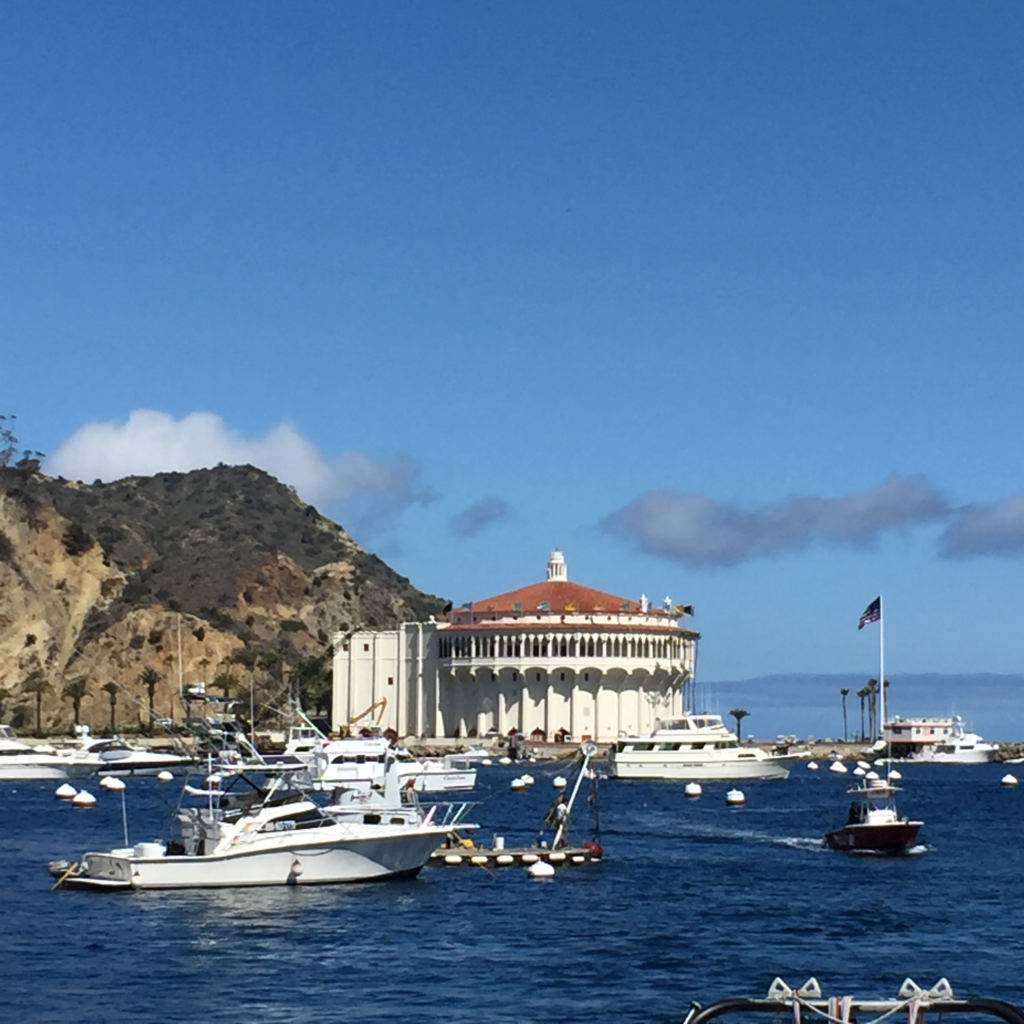 My first step on the ferry to travel from Newport Beach to Catalina triggers a song to start playing in my head…Twenty six miles across the sea, Santa Catalina is a-waitin' for me…
The island remains a receptacle of memories from my childhood through adult years. It's grown up in front of me, and I have grown to love its maturity each time I visit.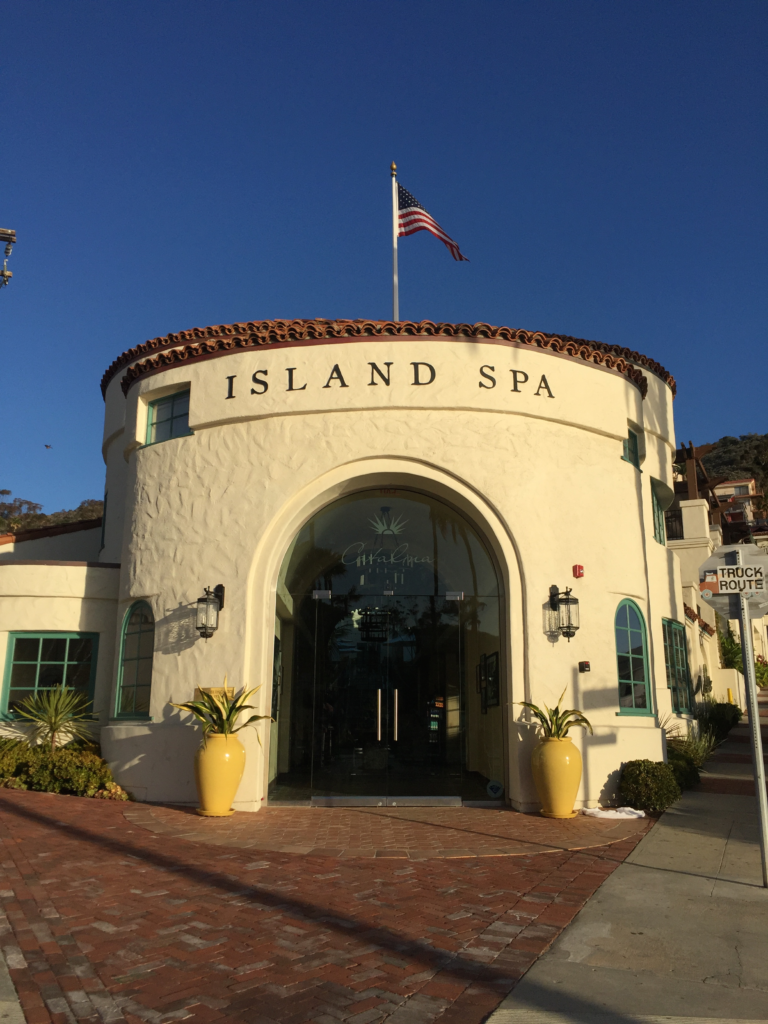 Catalina's main city, Avalon, is more sophisticated than ever, with new luxury hotels and an upscale full service day spa. Even the retail stores are carrying chic products; a far cry from the days where driftwood figurines were in every retail window! Even Joe's Coffee Shop, the longtime breakfast restaurant in the middle of town is gone, replaced with a perfectly designed retail store carrying mainstream surf clothing lines.
Yet, the charm and uniqueness is still there, if you know where to look, that is!
Following are 5 unique things to do during your visit to Avalon.
 1. Wrigley Memorial & Botanic Garden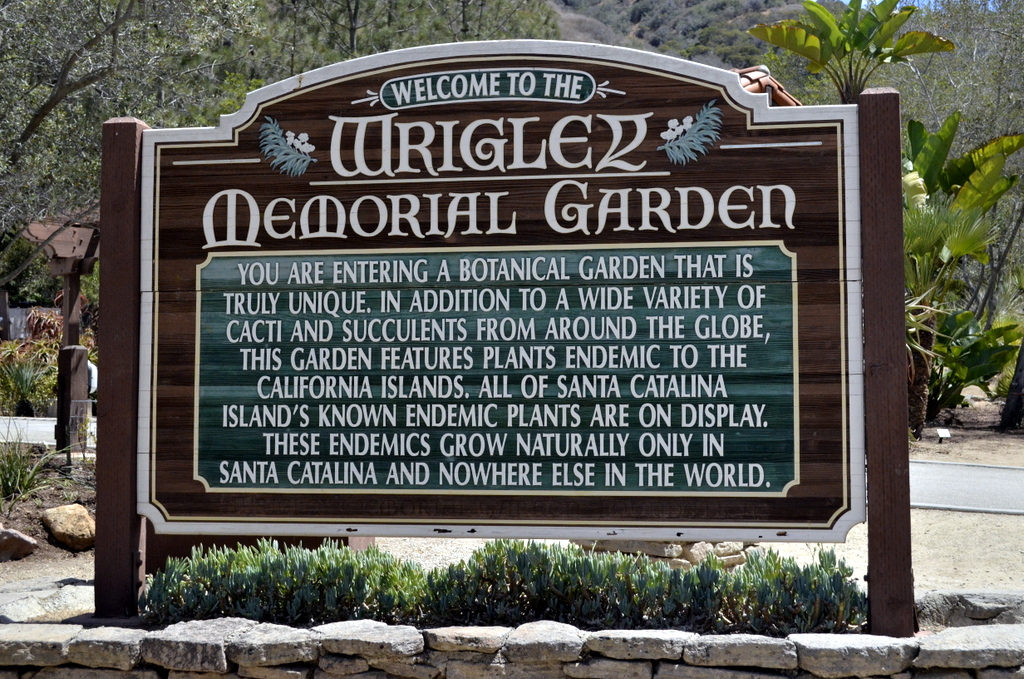 If you are up for a good walk, and have the right shoes (It is nearly a 2 mile hike that is slightly uphill), head east on any one of the streets that dead end on the town's thoroughfare, Crescent Avenue.  All of the streets heading east are lined with unique homes, originally built in the early 1900's.  Continuing on Avalon Canyon Road, provides views of the nine hole Catalina Island Golf Course, softball and baseball fields (William Wrigley Jr., who had a financial interest on the island, brought the Chicago Cubs to Catalina for spring training between 1921 – 1951).
Also on the route to the gardens is the original Bird Park (today it is home to a preschool); still standing is the aviary. I can remember coming here as a kid to listen to the songs of the many local breeds of birds who called this aviary, home. The walk continues uphill, passing one of several campgrounds on the island, Hermit Gulch Campground, before reaching the entrance of the Wrigley Memorial and Botanical Gardens.
There is a small entrance fee, which includes a museum and grounds. If you are botanical lover or simply interested in seeing up close native and rare plants that can't be found anywhere else in the world, this is the place to visit!
The beauty of the Wrigley Memorial and Botanical Garden is Catalina's 70 year commitment to care for extremely rare plants, many which are currently on the Endangered Species List, to ensure they will continue to grace the earth for generations to come.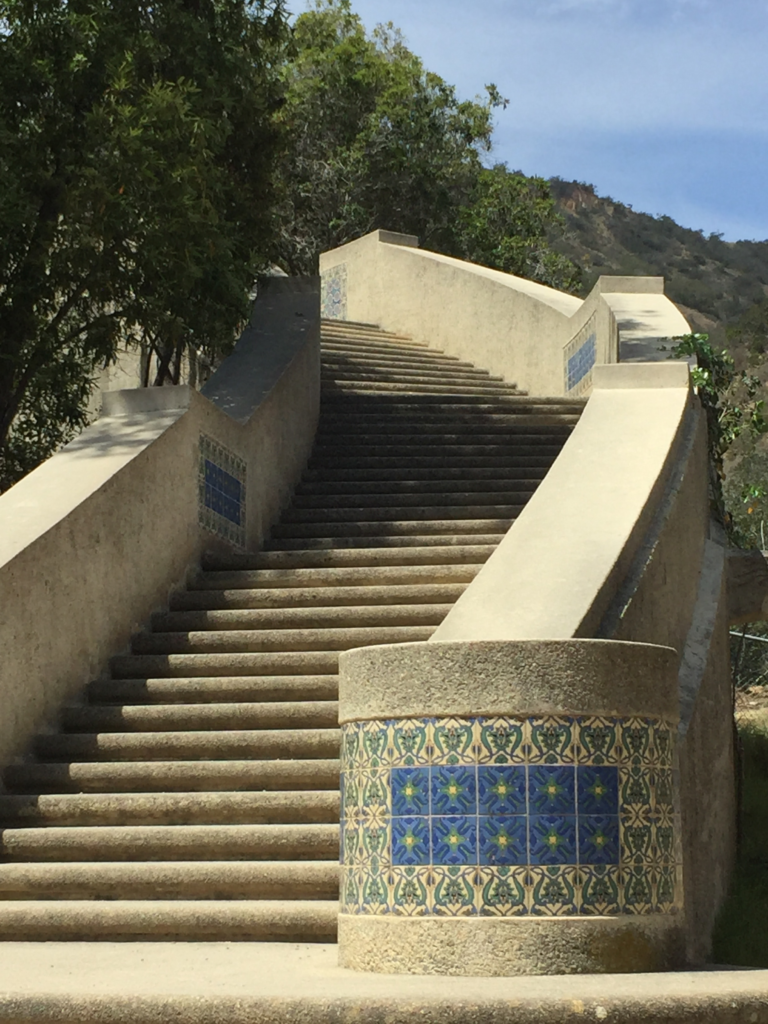 My favorite part of the Gardens is found at the far east end, where double sets of beautifully tiled stairs lead to the Wrigley Memorial.  William Wrigley Jr. was interred at the memorial in a custom-designed sarcophagus in 1932 but his remains were moved to Glendale, California in 1947, to allow the Gardens to be open for the public to enjoy.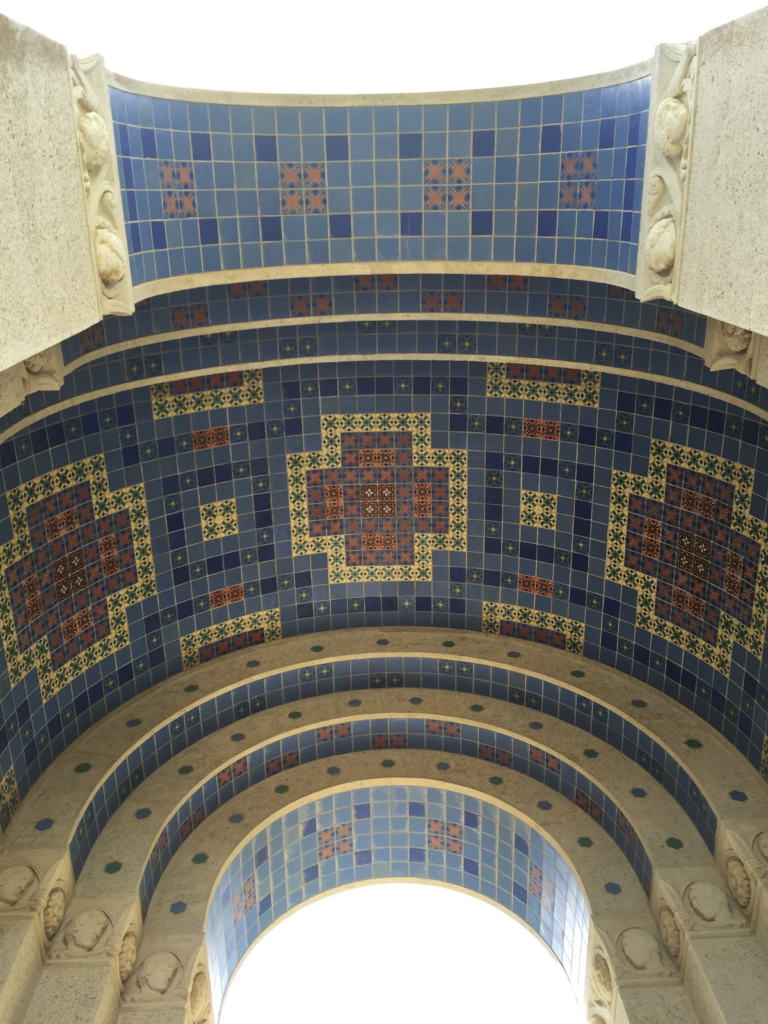 The area contains rare, beautiful, and colorful Catalina ceramic tiles, which were made on the island at the Catalina Pottery plant from 1927 – 1937.  These tiles can be spotted around town on benches, fountains, and other numerous places.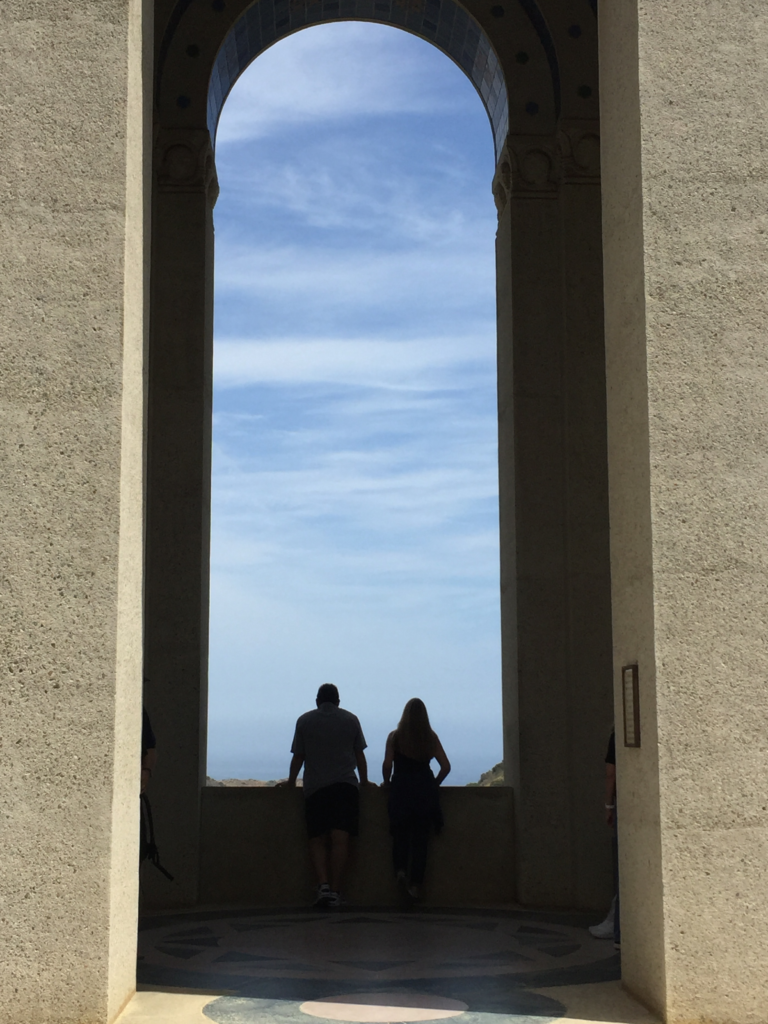 On a clear day, it's possible to look directly down the gulch to the west and see Avalon Bay!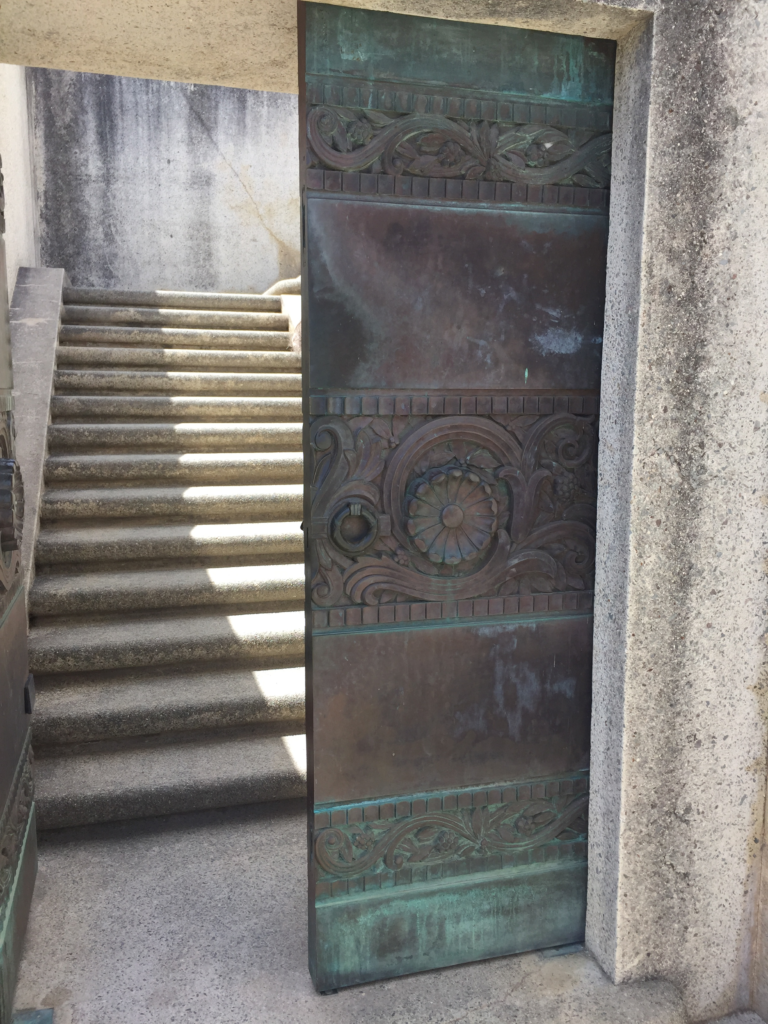 The architecture at the memorial is picture worthy, including this gorgeous bronze door.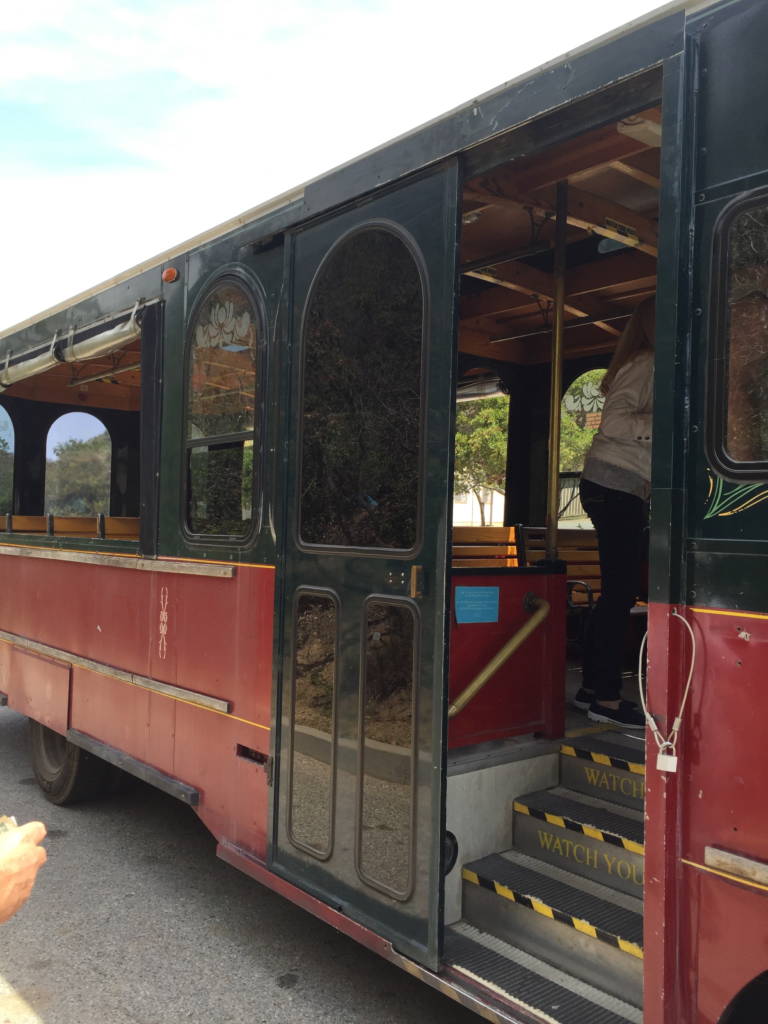 The Wrigley Memorial Garden is absolutely serene, beautiful and picture worthy and worth the hike.  If the walk to the Garden was too much, the Catalina Trolley, with its notable red open air vehicles, picks up at the gardens every 15 minutes, and drops off at several stops around Avalon.  For a small fee of $2.00 each way, it's a bargain and your feet will love you!
The Gardens are open daily from 8:00am – 5:00pm year round. There is a small charge to experience this island gem; $5.00 for adults and children under 12 are free!
2. View Taffy Maker at Lloyd's of Avalon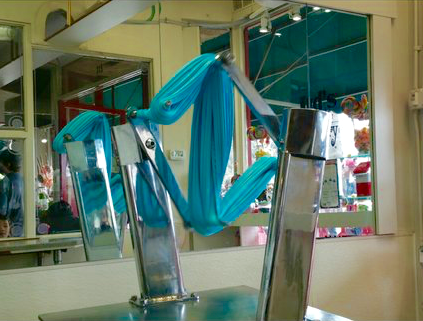 I can remember as a kid pushing my way to the front of the crowd that gathered in front of the window at Lloyd's of Avalon. I would press my face flat against the window to watch as the taffy machine turned and twisted a big wad of taffy in front of my eyes. Every day, a new colored taffy would be twisting on the machine, and if I was lucky with the timing, I would see a taffy maker remove the glop from the machine and put it on a huge marble slab for cutting. Curious and mesmerized, I would stay put until I was yanked out of the crowd by a family member!
The taffy machine continues to churn daily, and the taffy is still hand-cut and wrapped. After 82 years, Lloyd's of Avalon still makes some of the best salt water taffy to be found in Southern California! For those of you who are not taffy aficionados, the shop has morphed over the years into a full candy and ice cream shop with various items, including mouthwatering chocolates and packaged candy, so everyone in your family should be happy!
3.  Selfie with a View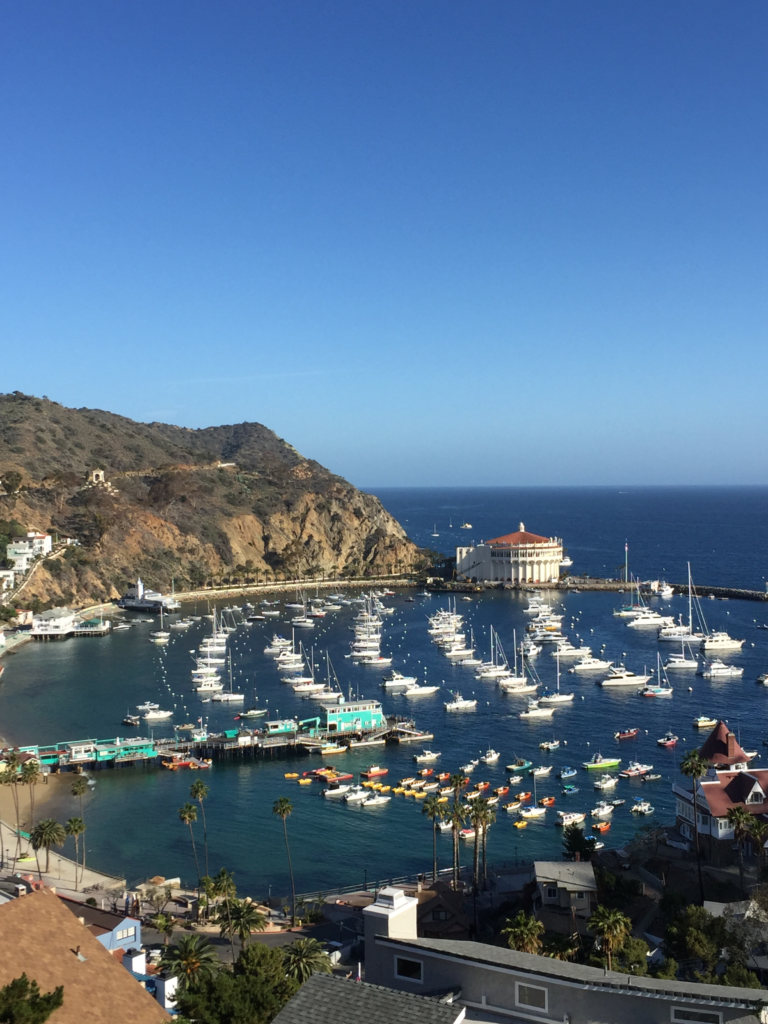 I've always believed some of the most interesting views of any tourist location are several streets back from the main drag and this is true in Catalina as well. To get one the best views for pictures, lace up  your walking shoes and head south from the Cabrillo Mole on Pebbly Beach Road, past Lover's Cove (a great spot for snorkeling to see garibaldi and other local fish), past the industrial section of the island, and turn right on Wrigley Drive. This is a steep uphill walk, so don't forget to bring water!  The entire loop from start to finish is approximately 4 miles.
Once you crest the top of the hill and start your descent, you reach a section of the road that overlooks the entire Avalon Bay. Likely, you will see others taking selfies with Avalon Bay below! This spot has the best viewing location of the Casino, Green Pleasure Pier, bay, boats, and historic Holly House.
Alternately, you can rent an electric car to travel to this spot if the walk doesn't sound appealing!
4. Descanso Beach Experience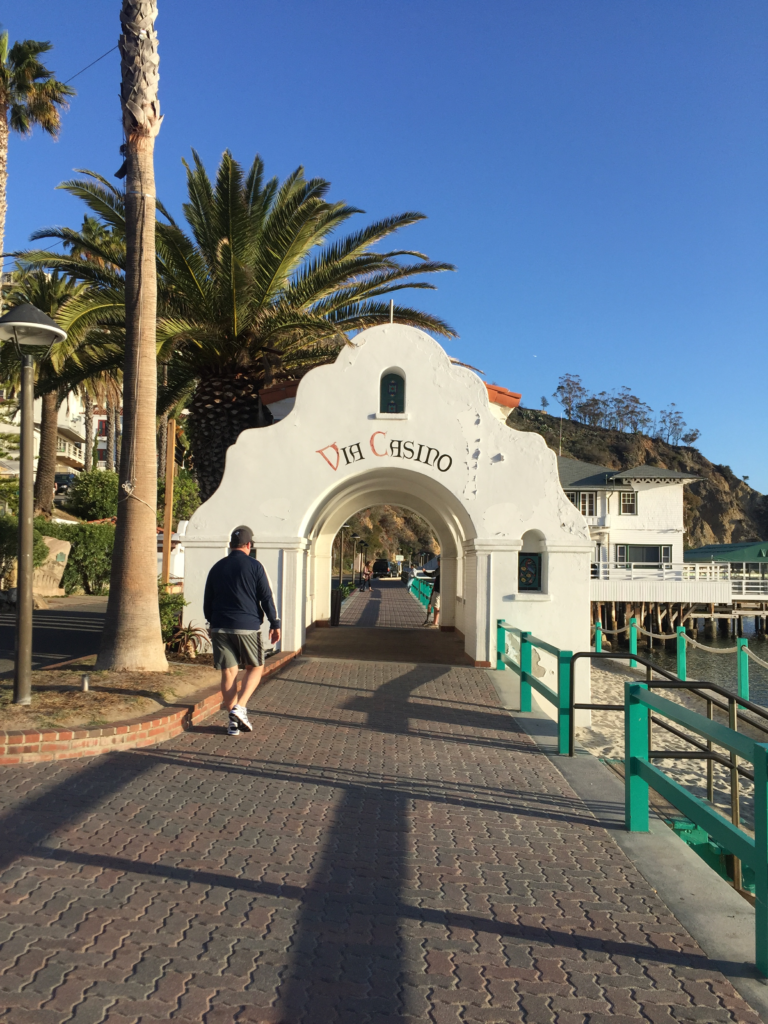 The walk from the Cabrillo Mole boat terminal follows Pebbly Beach Road and intersects with the main drag, Crescent Avenue. This pedestrian only street is lined with various restaurants and retail shops.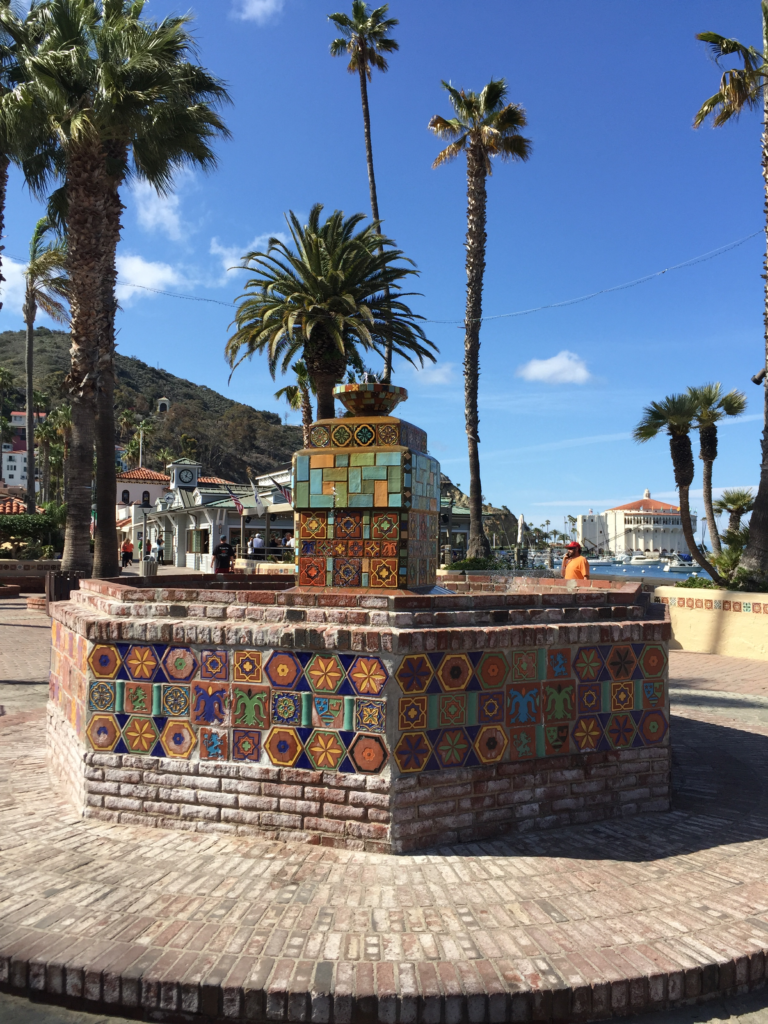 It's an easy walk through the brick-lined front street passing several of the island's popular spots like the Green Pleasure Pier, gorgeous Catalina-tile fountain, public shower area, Avalon Tuna Club (the oldest fishing club in the United States), and the charming walkway overlooking the Avalon Bay.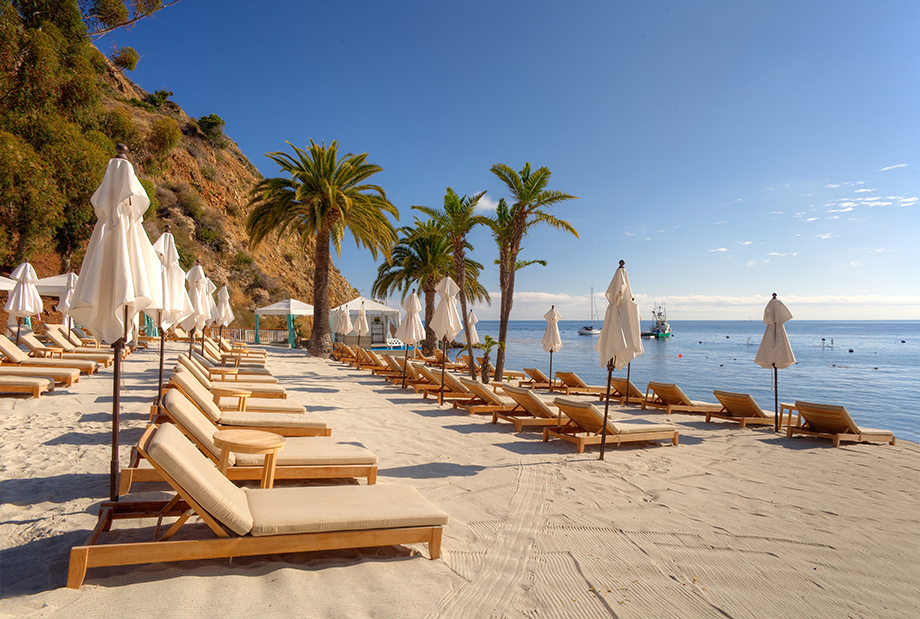 Head towards the towering Avalon Casino.  Just past this picture worthy beauty is the entrance to Descanso Beach. This area is pretty exclusive and you will pay a price for it. There are several cabanas and chaise lounges for rent, as well as water sport rentals like kayaks and paddleboards. There is a roped off area for swimming and the bay is normally calm.
An open-air restaurant is available with patio seating or your meal can be delivered to your chaise lounge on the beach! There is also a small cafe, Descanso Fresh, offering grab and go food as well as drinks. Two full service bars are also available with views of the bay. I have found when sand space is limited at the beach on either side of the pier, Descanso is a nice alternative to these crowded beaches.
5. Movie Time at the Casino Theater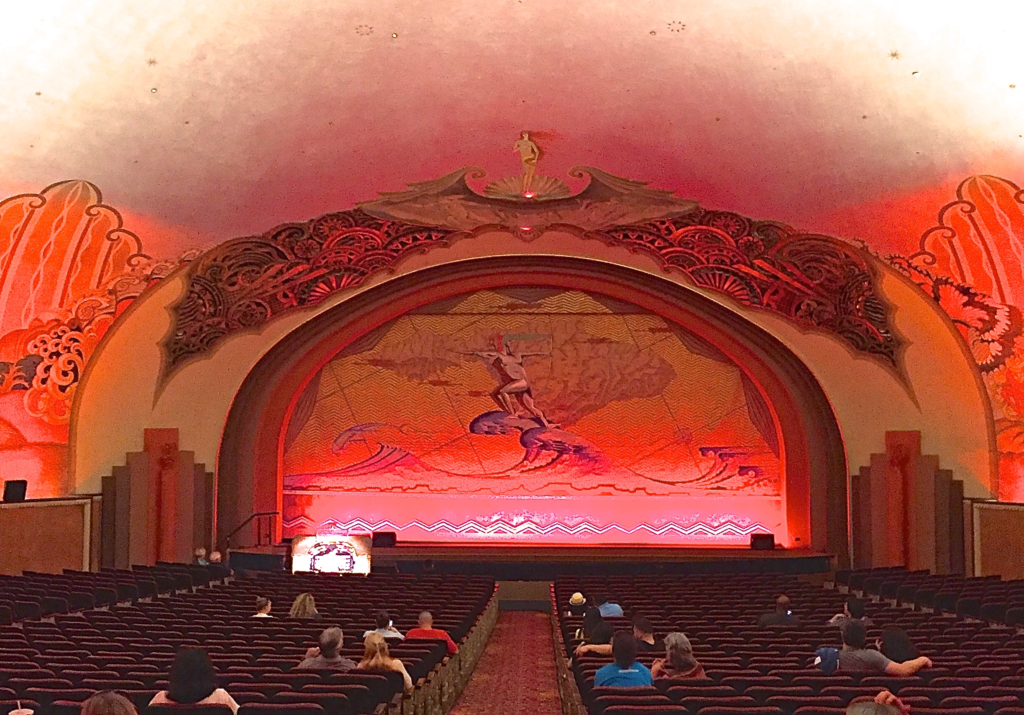 The Casino Theater, which has remained mostly authentic includes red velvet seats, and still shows movies.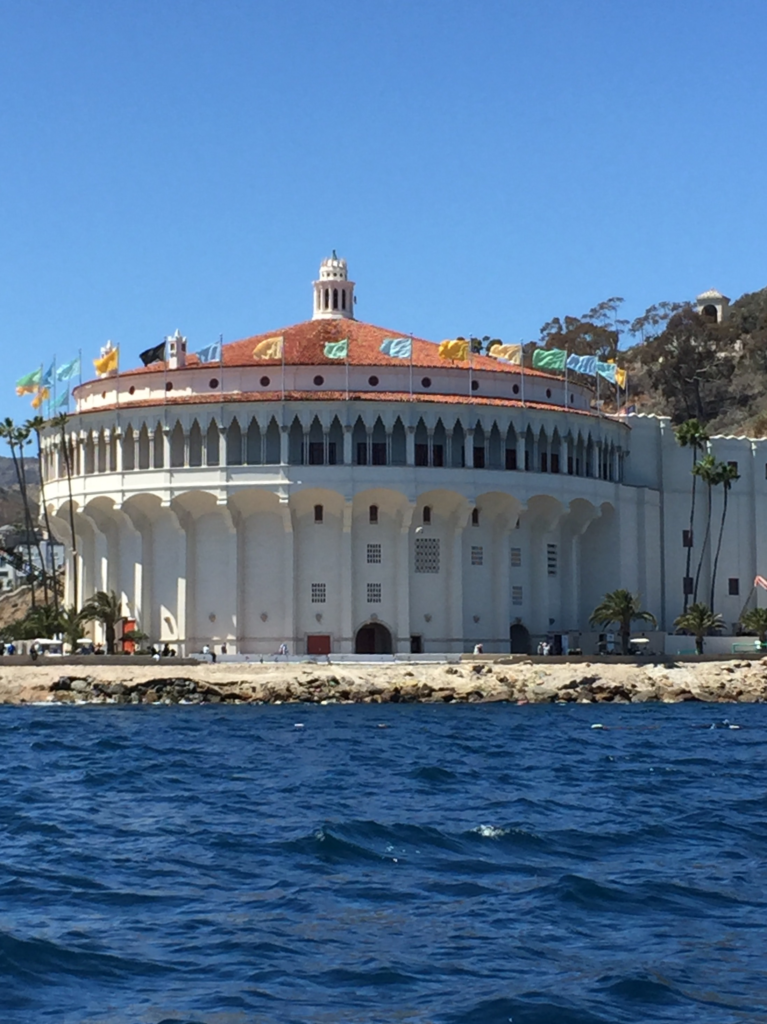 The theater is located in the Casino, which is an architectural dream. Gorgeous and unique Art Deco decor would be a way to describe the casino, which was built in 1928. The Casino has offered many opportunities over the years, from dining, to big band, and currently houses the Catalina Island museum (which will be moving to its new home later this year). The massive and impressive ballroom is still used for weddings and events.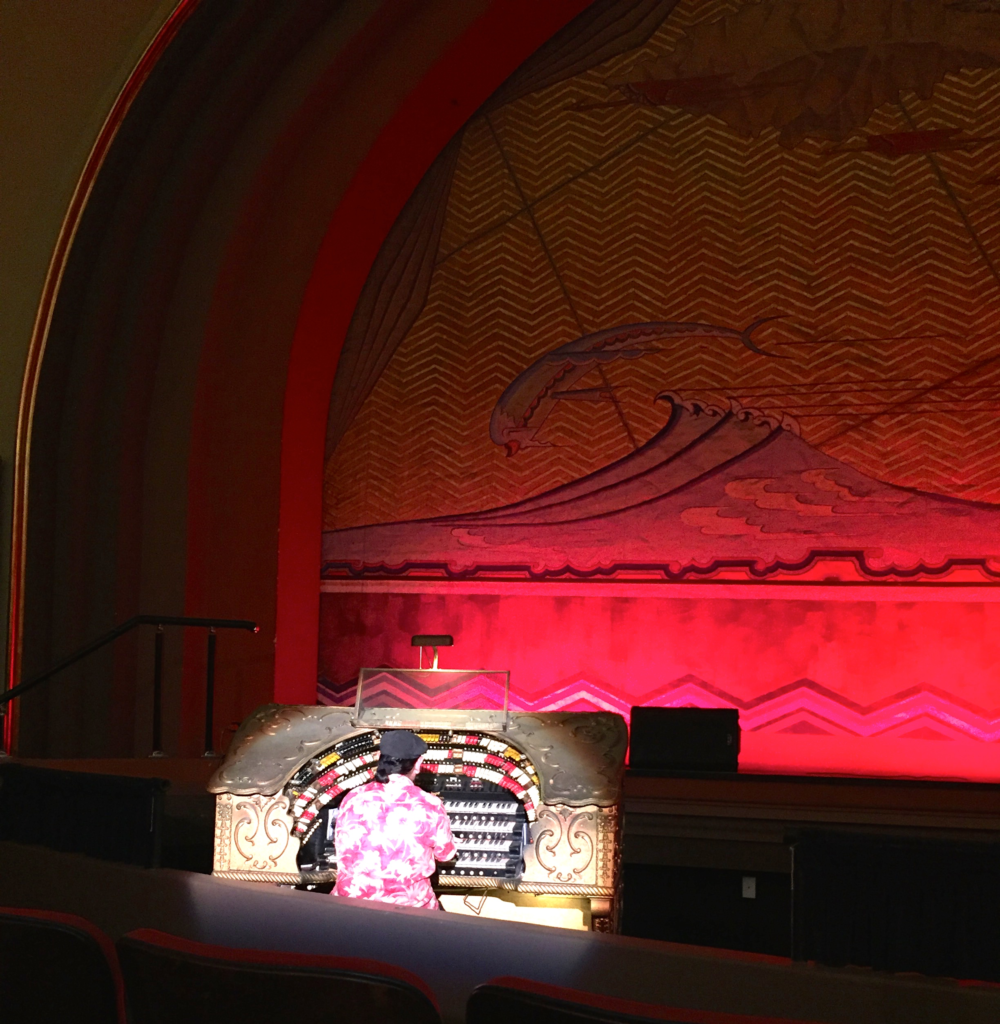 The theater always shows a first run movie once a night, and on Friday and Saturday night your ticket includes a special one hour concert just before the show begins by an organist who performs on the original 4-manual, 16 rank theatre pipe organ built by the Page Organ Company of Lima, Ohio.
Don't miss this experience, because I'm not sure where you will be able to enjoy a historic theater, with its fresco paintings, and pipe organ anywhere else in the world! You may have some explaining to do with your kids about what is going on, but it's a piece of history that isn't duplicated in many places.  It's amazing for all ages and worth going early to hear!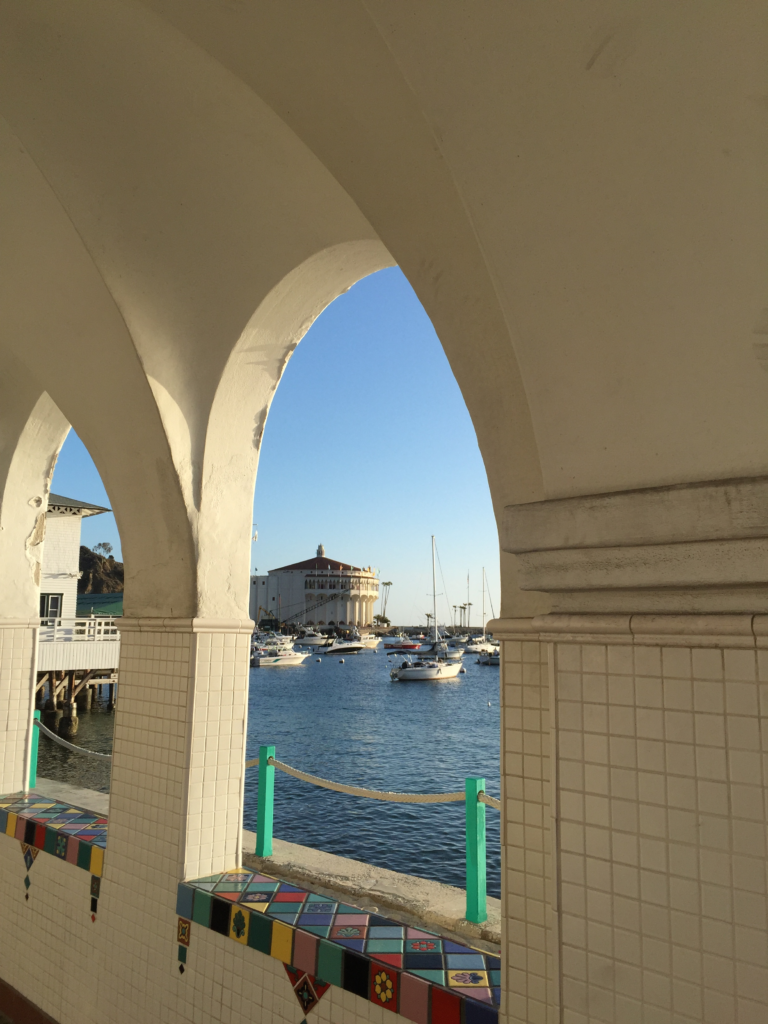 There are days worth of other experiences on Catalina Island, and almost impossible to take in on a single weekend. There are numerous lodging accommodations and dining options making  the island a perfect place for a weekend or weeklong getaway.  The island is easily reached by ferry in a relatively short amount of time, from Newport Beach, Long Beach, San Pedro, or Dana Point.
Go ahead, visit, as there are memories in the making awaiting you.
For more information contact CatalinaChamber or visitcatalina