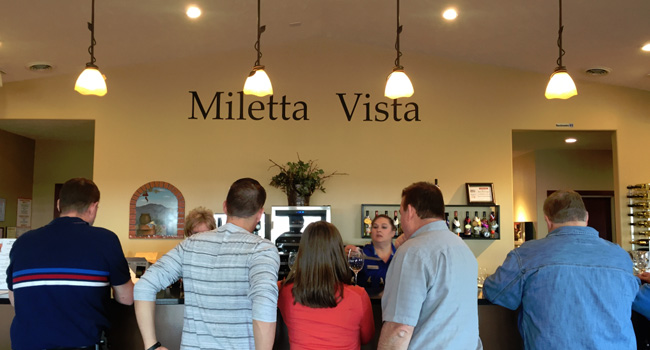 a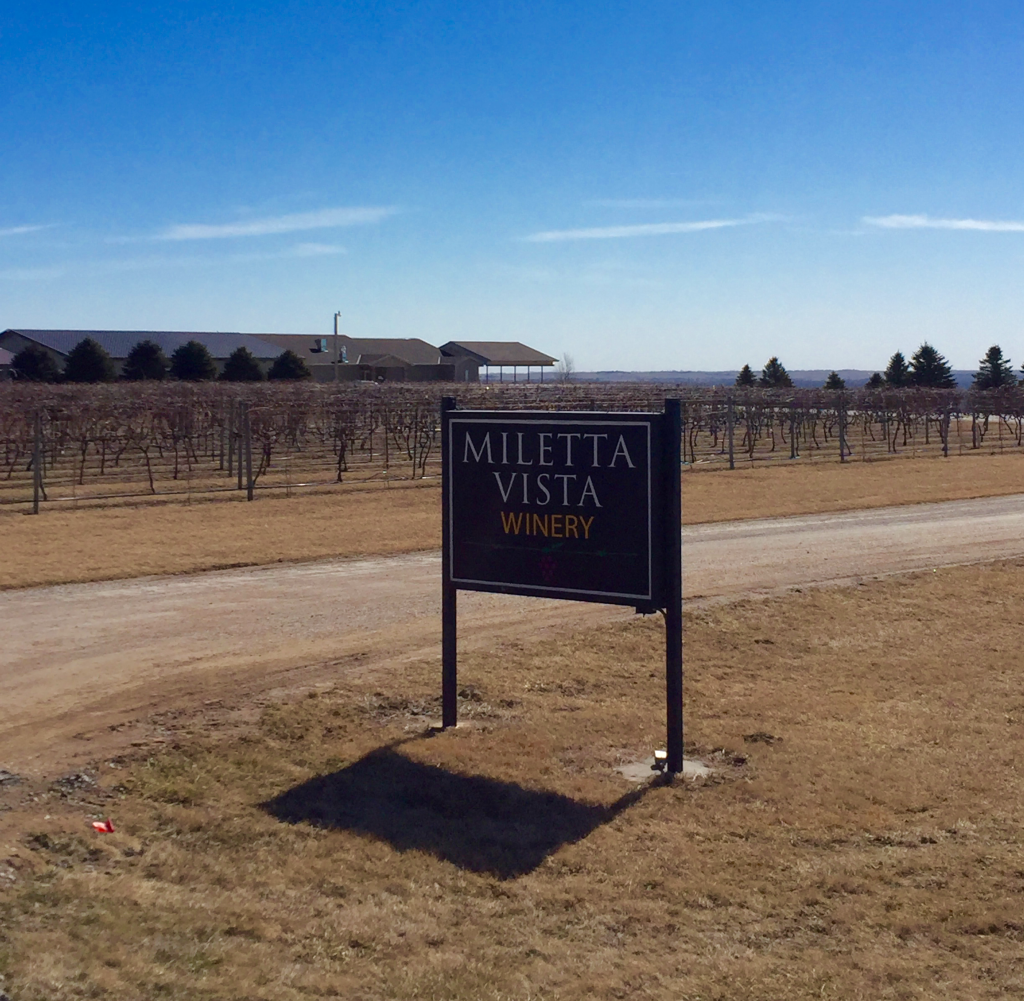 Sometimes, the most memorable experiences are those you simply wander upon. Such is the case on a recent visit to Nebraska where my family, struggling to come up with something to do, decided to get in the car and simply, wander.
A ride down a two-lane country road stretching on forever past long forgotten towns, eventually led us to a small winery and tasting room. Yes, Nebraska actually has just under 40 wineries/tasting rooms, and the one we stumbled upon is in St. Paul, a small town with a population of just under 2,300!
Past rows of harvested corn and soy stocks, weathered barns, and lazy cows grazing in pastures, we found Miletta Vista Winery just off Highway 281, perched high upon a hill. It almost appeared out of place; surrounded by only farms and barns. The property was purchased in 2001 by Mick and Loretta McDowell, who started planting their first vines in 2002 and opening their tasting room in 2007.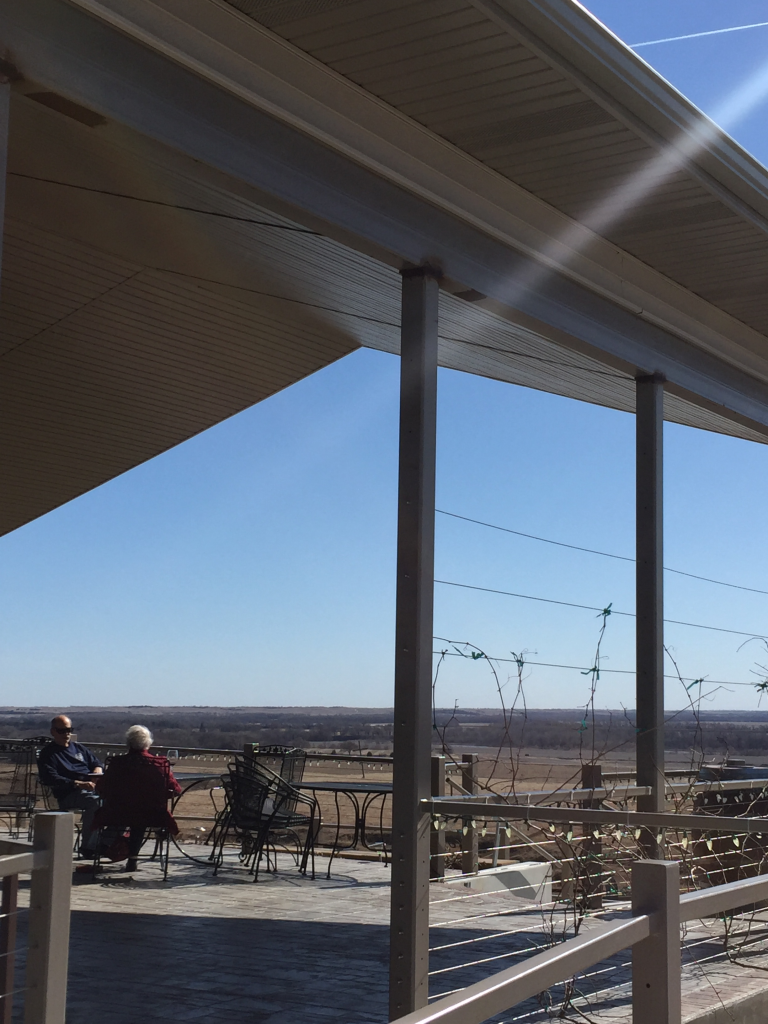 Upon first glance from the parking lot, we noticed an expansive set of terraced patios, and realized we found a hidden gem; the outside multiple-level terrace offered sweeping views of the North Loup River Valley, ponds, pastures and vines below. The wrought iron patio sets were beckoning to be enjoyed, and the winery cat welcomed us with warm snuggles at our feet. It all felt familiar and coming from the Southern California Wine Country in Temecula, we all felt this winery could easily belong in any established wine region on the West Coast.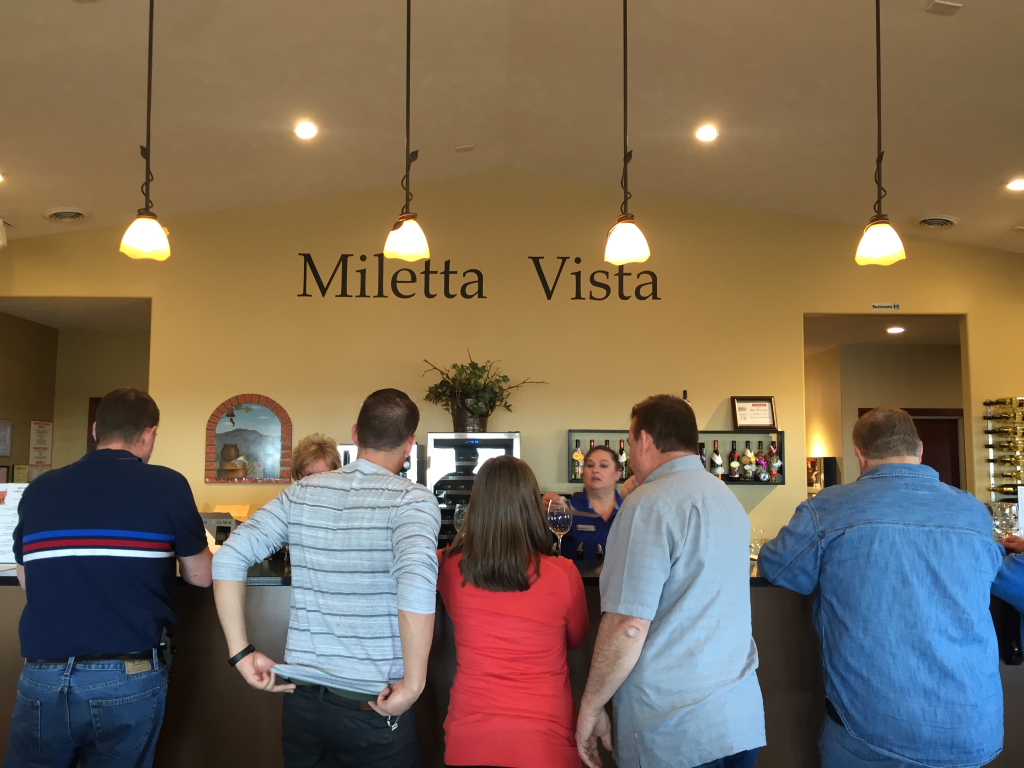 It was apparent the Tasting Room was new; gorgeous high-top wooden tables for seated tastings and dining, and expansive tasting bar were present. Wine medals were hung with pride on the back of the tasting bar wall.
It wasn't until I wandered a bit through the small retail shop, and down a hallway, that I understood the history of this winery. Hung in the back hallway, were pictures and mementos from the first tasting room built by the Owners in 2007. In June of 2012, a middle of the night fire swept through the facility, destroying the entire Tasting Room and Mick and Loretta's home, which was located on the lower level of the tasting room.
During our visit, we were fortunate to spend time with Mick, and his Executive Chef, Larry Cordova.
Mick shared an emotional story of the fire happening just five weeks before the season's harvest. Luckily, he explained, it did not destroy any of the vines and as Mick watched his efforts and life savings go down in flames, he vowed then and there to rebuild. I asked how he was so resolved, and Mick replied his determination to succeed came from his thoughts of the many Veterans he knew who had faced adversity but kept fighting the fight.
Given the fruit and tanks were still usable, Mick explained he rallied his team and used a large shed on the property, undamaged by the fire, to relocate the tanks. He quickly purchased a new press and was able to harvest the grapes and begin the wine making process, just steps from the burned out hull of the tasting room.
The rebuild took just one day shy of a year, and the newly rebuilt Miletta Vista Winey and tasting room were once again operational, with an added events venue, restaurant, and outdoor terrace. The Owners wasted no time in creating a full events schedule with music, wine pairing, and chef dinners, to name a few.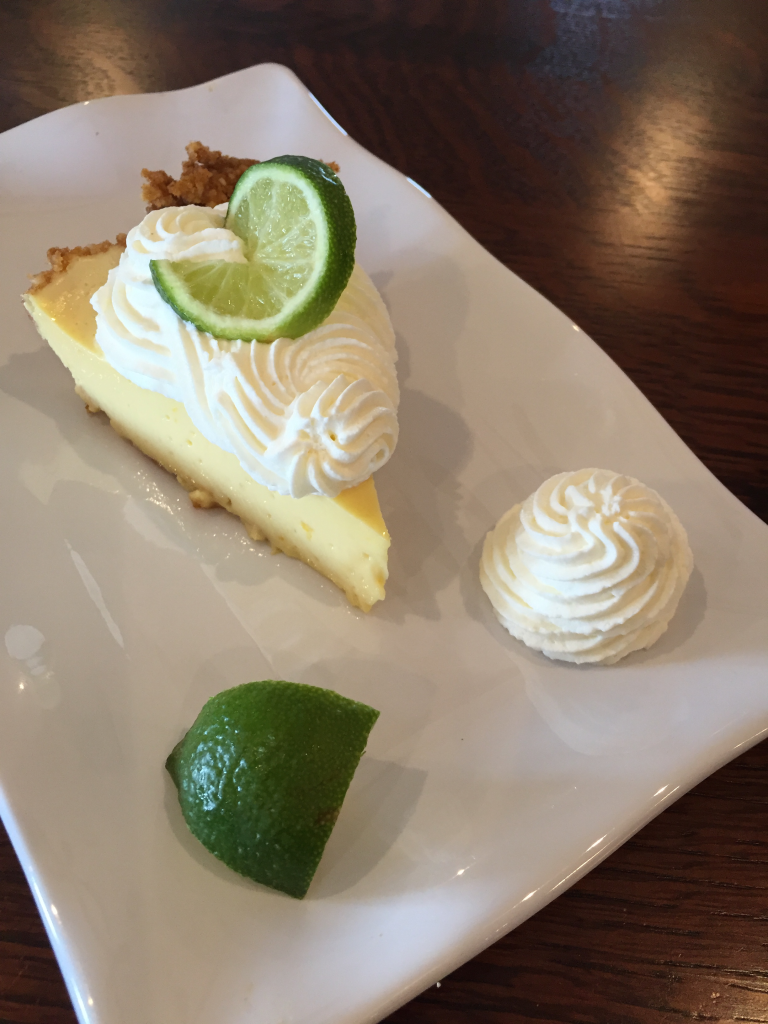 In early 2016, Chef Larry Cordova serendipitously crossed paths with the McDowells. Chef Cordova, an accomplished culinarian, who had a lifetime of experience in the corporate arena, had recently relocated to the St. Paul area, and the result of their union is a little gem of a winery restaurant. Chef Cordova is excited to have the opportunity to bring a new culinary adventure to this property!
The Chef shared his vision for the restaurant, to include fresh fish flown from the east coast, prairie free-range beef and chicken offerings, and locally sourced produce; and is proud to say all of his offerings will be handmade, using his recipes from over 30 years with high-end resorts, corporate kitchens, and catering.
Chef Cordova showed off with pride, his recently homemade dessert; an insanely delicious Key Lime Pie, and reminded us it was intentionally not "green" in color, as he has committed to not using additives in his recipes! This pie, with its creative macadamia nut crust, and perfectly balanced filling, was undoubtedly one of the best Key Lime pies I have ever tasted.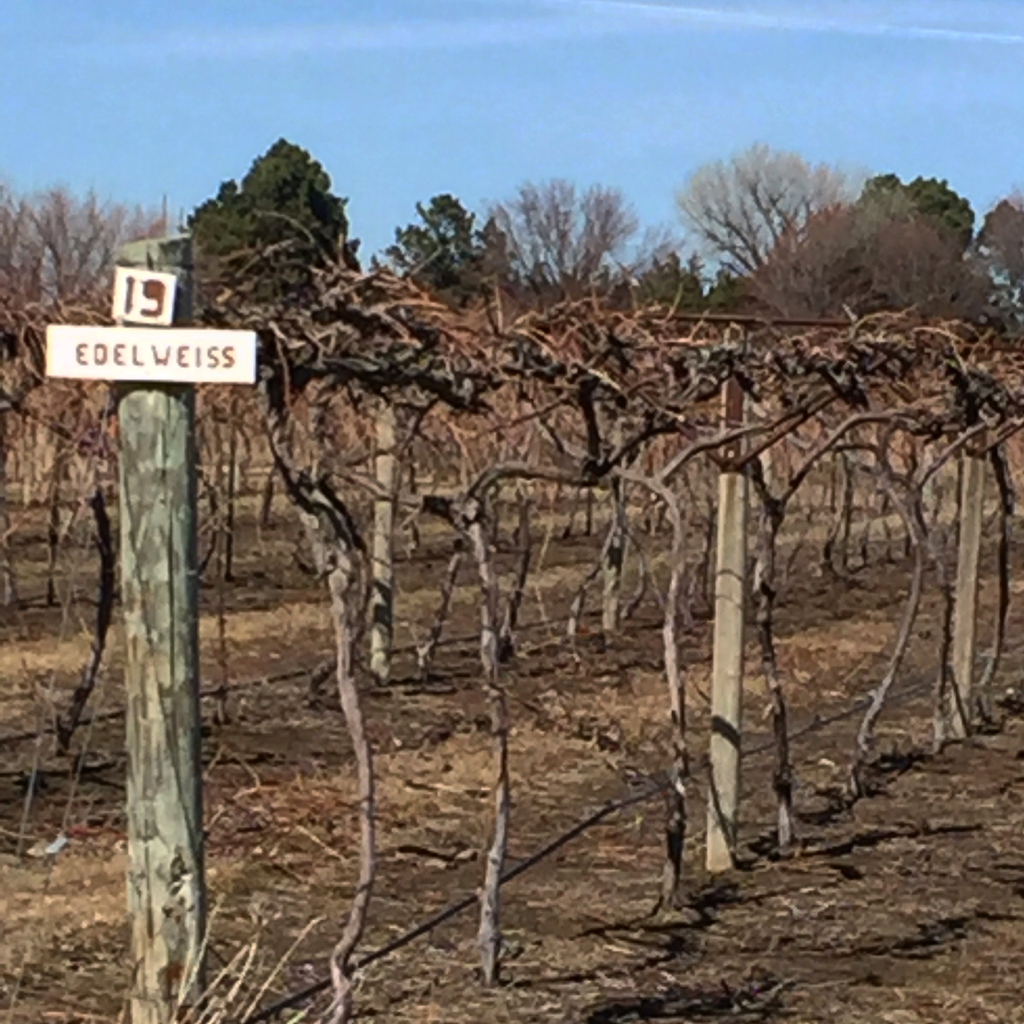 The wines of the Midwest have a very unfamiliar taste to those produced in warm weather regions. Miletta Vista's whites, including the driest, Serval, to the sweetest, Flight; are generally produced from cold weather vines using weather-hearty grapes like Edelweiss, Brianna, and Lacross, and Frontenac, Merechal, Chambourin, Marquette, and DeChaunac for their reds.
Being a Southern Cali girl, I find Midwest wines to be a bit sweet for my palate, but enjoyed the Flight, likening it to Moscato. The limited reds produced by this winery ranged from young light bodied St. Croix to an estate produced Port, aged in French oak.
Mick explained there is more to come, as he will be planting more vines soon; as he should, only six acres of his 150 acres spread is planted. He's optimistic about the wines he can produce and is ready to produce enough fruit to meet the 75% locally-grown requirement to call it a Nebraska wine.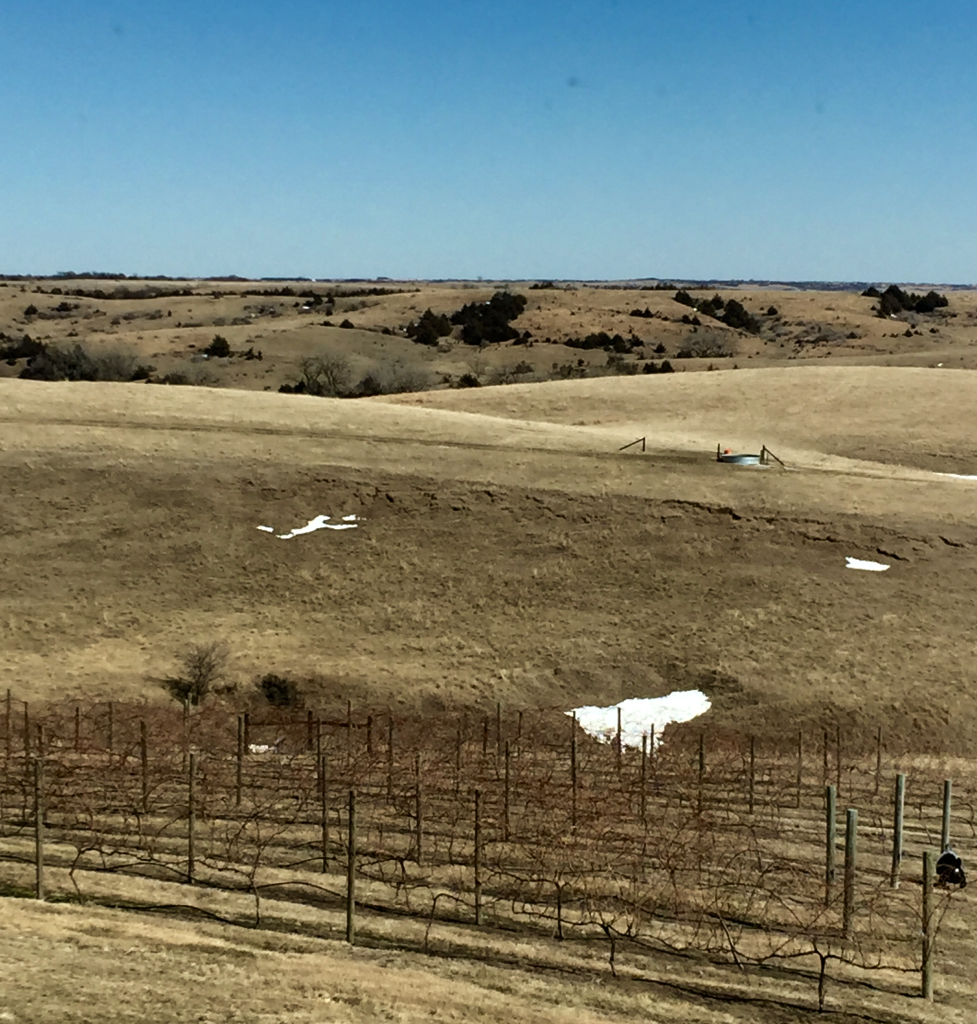 Beyond wine, Mick has hopes for lodging soon on the property with cottages lining one of the properties' gorgeous vistas.
Mick already knows his winery is on the map or maps to be more clear. In the same hallway that houses fire mementos are two large framed maps; Nebraska and World, both with tiny pushpins dotting each map with the guest's origin who visit the winery. I found it interesting how well represented Europe was given the location of this winery!
Mick shared, "You in California may have the weather, but we have the water." The property sits on one of the largest aquifers in the nation, replenishing as much water as needed due to the close by rivers to his property.
This and his never ending faith and determination to provide an exceptional wine experience for those that visit from near and far are worth the drive to get to Miletta Vista Winery. Wander on by!
Cheers!
Miletta Vista Winery 1732 US-281, St. Paul, NE 68873
Contact info: Mick and Loretta McDowell, (308) 754-4416
www.milettavistawinery.com