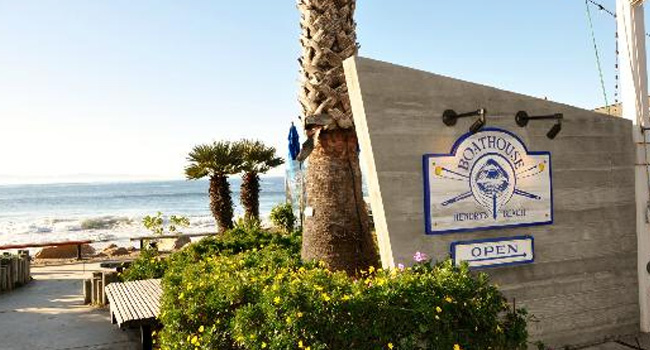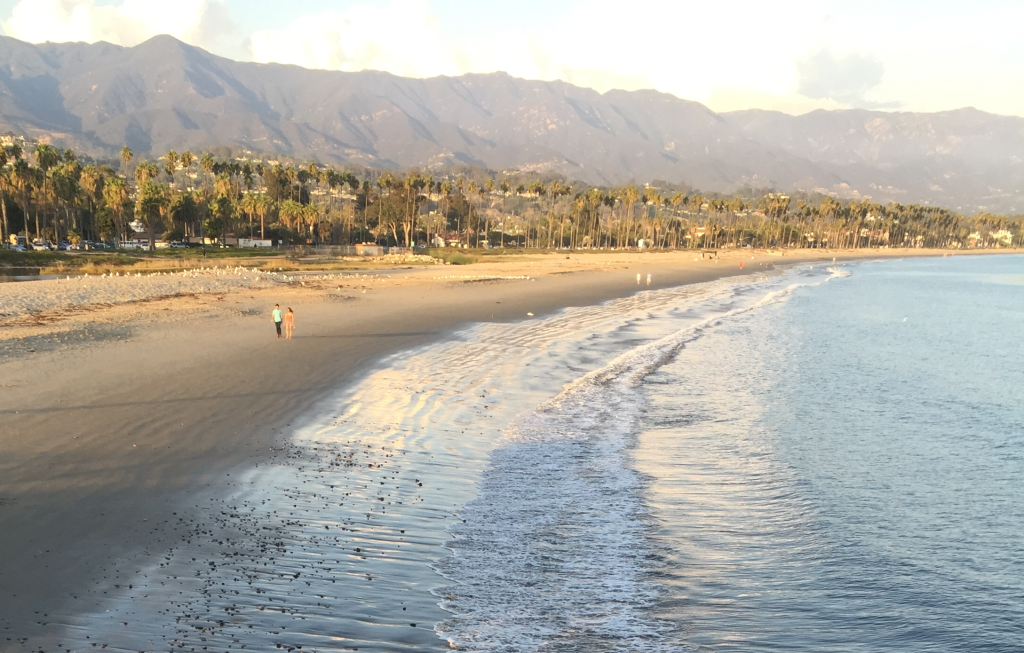 Santa Barbara holds the distinct honor of being named the American Riviera, and for good reason. With its gorgeous coastline, local wine region, Mediterranean architectural charm, expansive sandy beaches, world class lodging and dining, and overflowing bougainvillea, there is much to experience.
It's a short two hour drive from Los Angeles and just about thirty minutes before entering the Santa Barbara region, you'll get a beautiful view of the pacific coastline right from the highway.  I like to take Cabrillo Boulevard, the first exit off the Highway 101, which immediately provides an opportunity to start a driving tour beginning on the outskirts of the city.  Almost immediately upon exiting the highway, the estate of the reclusive heiress Hugette Clark rises high above the south side of the road and a bird refuge and Santa Barbara zoo are on the other side.  Within minutes, the drive reaches the coastline with its beautiful sandy beaches and miles-long walkway, perfectly tanned and toned bodies, bike riders, and runners.  On a clear day, the Channel Islands can be seen.  Eventually, the drive leads to the Sterns Wharf, which allows cars to drive on; an experience in itself.
Continuing south on Cabrillo Boulevard, several other Santa Barbara landmarks appear, including the beautiful harbor and Santa Barbara Junior College, with one of the most amazingly positioned college sport fields; a full180 degree view of the ocean!  If you stay on Cabrillo Boulevard, the road continues to wind through beautiful residential areas and connects with Coast Village Road; the frontage road that continues to offer coastal views and a eventually drops down to a wonderful destination for beach goers at Hendry's Beach.
You could just continue driving on this road for miles, because the views around every corner get better and better, but why would you do that?  There is too much to do and see in Santa Barbara, and if you are like me, with a limited amount of time, you need to get going and get seeing and get doing in this gorgeous town!
Stay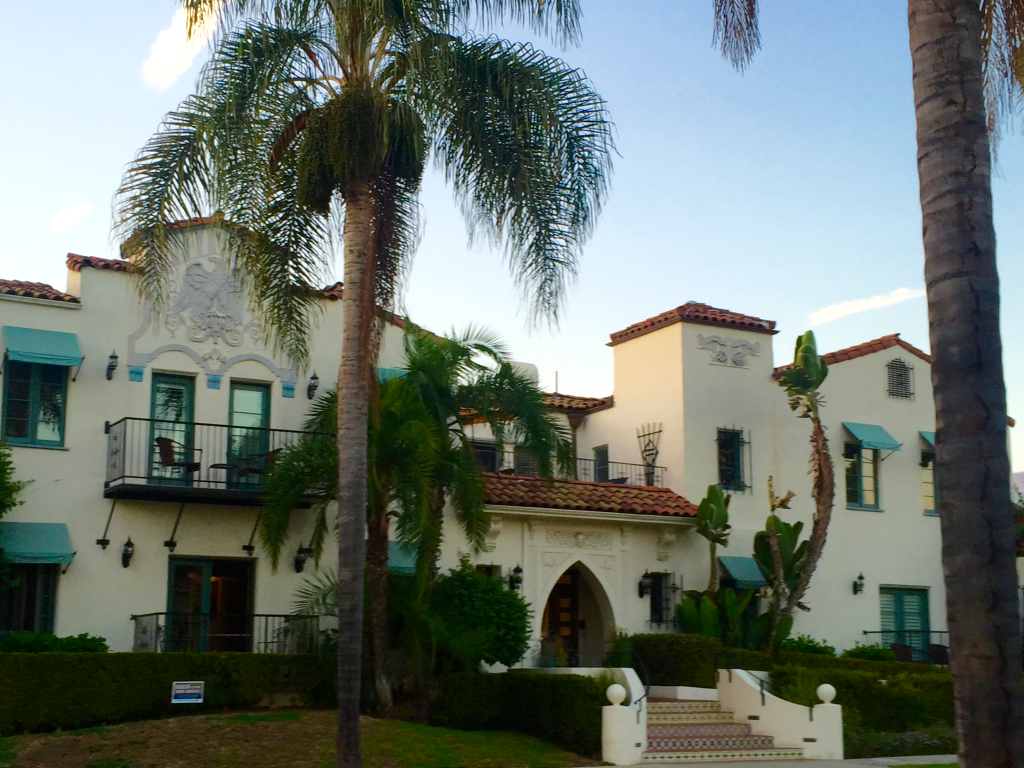 My go to place to stay in this town is the unpretentious Eagle Inn, 232 Natoma Avenue, conveniently situated in a quiet residential area a few short blocks off of Cabrillo Boulevard in the West Beach neighborhood. It's a short walk to Stearns Wharf, the harbor, restaurants and boutiques that line Cabrillo Boulevard.  If you are adventuresome and don't mind walking a few miles, you can get to the heart of town, State Street, in less than half an hour.  Otherwise you can borrow the Inn's bikes for a spin around town.
The Inn has several options of room style, and I've stayed in many, and have always been impressed with the attention to detail and amenities. There is also a private casitas on the property for rent for larger parties or for those who want complete privacy.
The table-service breakfast is served in a beautifully tiled dining room and if you get up early enough and are lucky, you can snag one of the tables that is privately situated on the balcony.
Eat
You have heard the old adage, too many places, too little time, right? Actually, this applies perfectly to Santa Barbara. Regardless of your appetite, or culinary desire, you will certainly find it within a short walk or drive of the downtown area.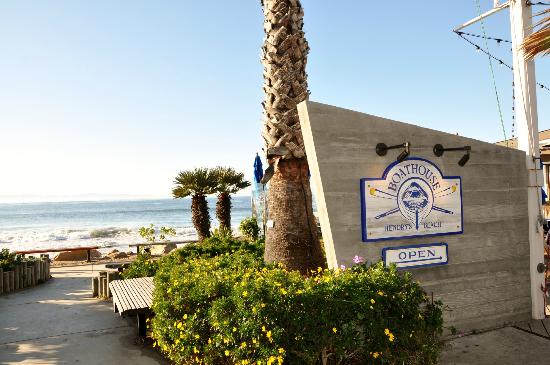 Lunch favorite for me involves dipping my toes in the sand, so my recommendation is one of the many beachside cafes, including the Boathouse, 2981 Cliff Drive; a wonderful seafood restaurant tucked away at Hendry's Beach.  There is plenty of parking unless you are there at key times during the summer or weekends, so plan your trip accordingly. Not only is this indoor/outdoor restaurant right on the beach, where you can experience the waves breaking from your table, but the food preparation and presentation is amazing.  The primarily seafood menu is extensive, yet there are some choices for those who are not pescetarians!  There is always a wait for a table at lunch, but well worth it.  The restaurant does offer reservations for dinner.  After your meal, walk out the beach side of the restaurant and you will find a set of stone stairs to a viewing area for perfect selfies with the beautiful Pacific as your backdrop!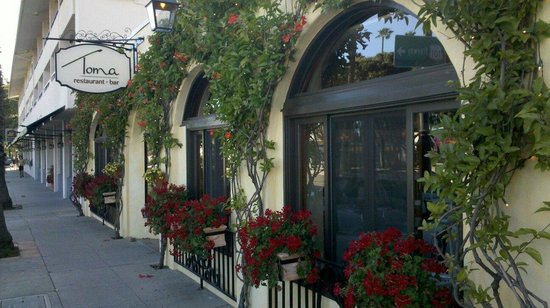 Dinner choice goes to Toma Restaurant and Bar, 324 West Cabrillo Boulevard. Toma is an intimately-sized restaurant with a unique charm in the dining room, where tables along the windows are afforded a beautiful view of the Santa Barbara harbor.  The menu consists of creative Mediterranean and Italian dishes using fresh fish, meat, vegetables and ingredients that are sourced locally by the Chef.  The meals are creative and authentic, the service exceptional, and the ambiance, worth visiting.  Try the Cioppino, with its generous fish, crab, prawns, scallops, calamari, clams, and mussels, and even though you may not have room for one of their creative deserts, save a little spot for their Olive Oil Cake!
Explore
Local islands, water sports, nearby wineries, restaurants, public market, top notch shopping, weekend arts and craft show, historic mission, marine sanctuary, zoo, wharf, parks, and museums are found in this town.  A carefully crafted weekend itinerary will have you on the go, but here are two of my favorites:
Santa Ynez Winery Region
In less than 45 minutes from downtown Santa Barbara, you can reach the San Ynez wine region consisting of over 100 wineries. There is a variety of tasting rooms, differing in size from boutique to larger wineries, several with restaurants and many providing tours of the vineyard and cellar.  Plan ahead to either bring a picnic or have lunch at one the many offerings in wine country.  With its Mediterranean microclimate, the Santa Barbara wine region offers over 50 different varietals grown in the region resulting in wines worthy to be enjoyed.
The Sterns Wharf
The wharf offers an opportunity to visit specialty shops, order a pound of peel-your-own shrimp at the Santa Barbara Shellfish Company, try a local wine, visit the Ty Warner Sea Center, or be lucky enough to watch a fisherman hook a local catch.  I like to sit on the pilings at the very end of the wharf and stop for a few moments to gaze towards the horizon…it's memorizing and zen-like!
Play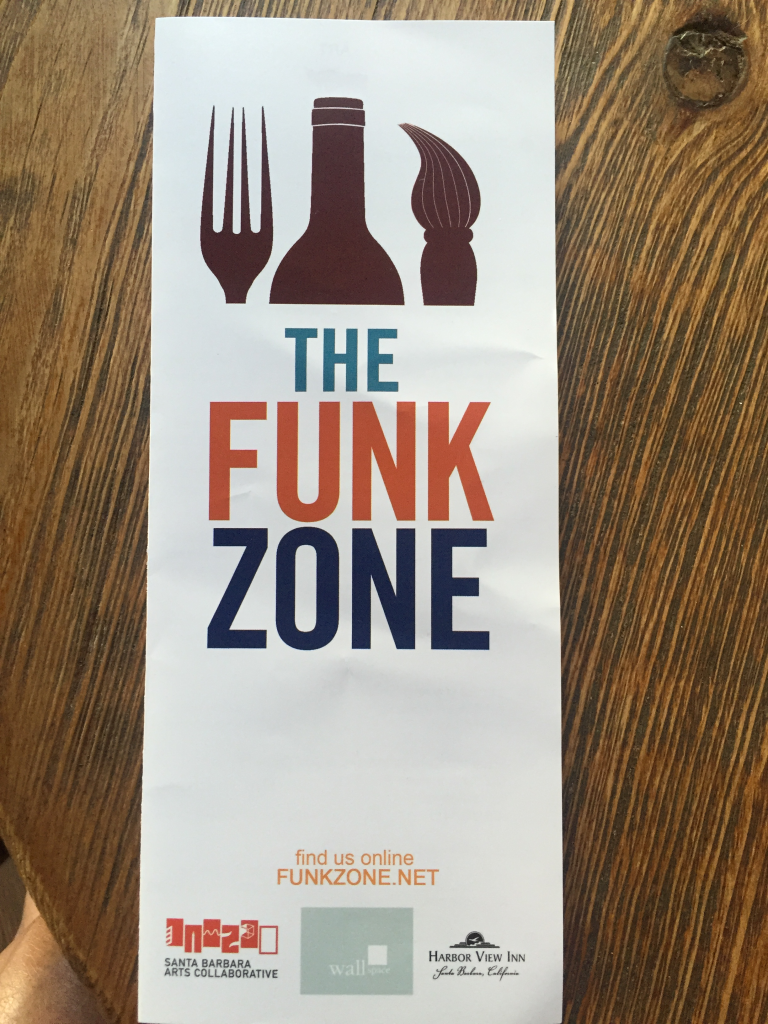 Within walking distance, or pedicab, from the Inn and wharf is a newly designed neighborhood; the Funk Zone.  What was once a few city blocks of food-processing warehouses, is now an area that has been revitalized as a go to place for all things hip; eateries such as The Lark, microbreweries, tasting rooms, art galleries, museums and some renovated hotels are found in the Funk Zone.
Consider visiting a few of the local urban tasting rooms in the Funk Zone such as: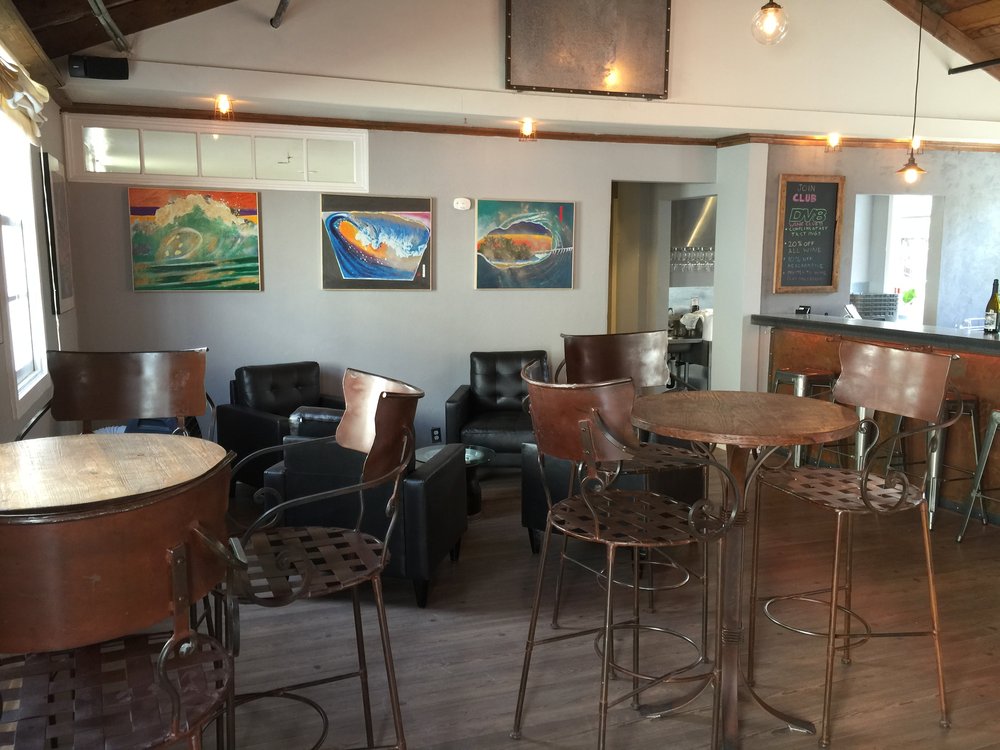 DV8 Cellars,
28 Anacapa #C
With its minimalistic tasting room, and a nice selection of local varietals with names inspired by the owners love for Formula One car racing such as Monaco and G-Force and Victory!
32 Anacapa Street Suite B & C
An eclectically designed tasting room offering a selection of pinots, chardonnay and viognier.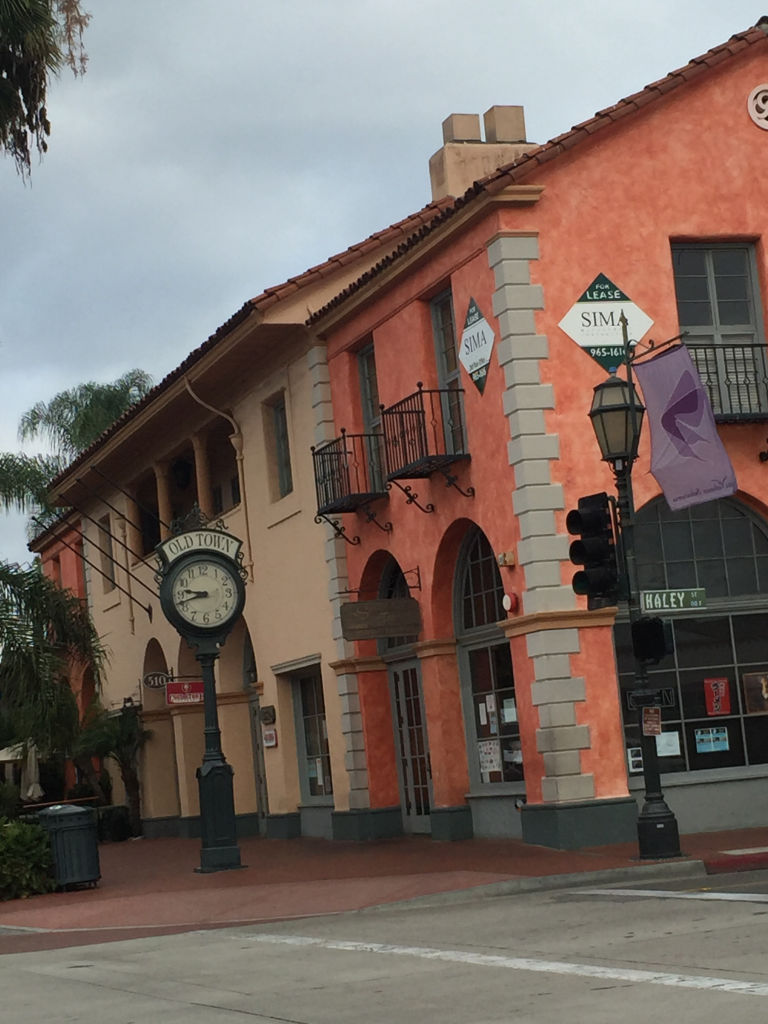 Adjacent to the Funk Zone is the shopping and dining district on State Street.  The tree-lined street offers high end well known stores, unique boutiques, a variety of multi-national restaurant offerings, and the local McConnell's Ice Cream that can't be missed!
Both neighborhoods are equally as interesting in the day time as they are the night. Music is offered in several locations of both the Funk Zone and State Street, and even though the vibe is completely different between the two, they are both worth experiencing!
So the truth is 48 hours is not enough as there are so many other experiences offered by this beautiful seaside town.  Need to get my calendar out right now and book another weekend!
Cheers!