Sorry Trader Joe's…Modena Simply Has You on the Balsamic!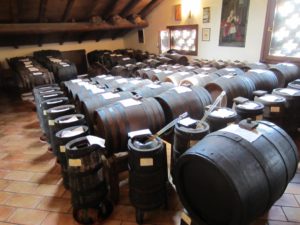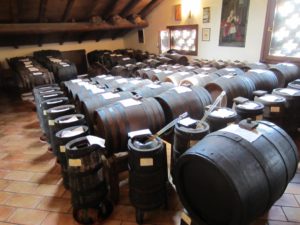 We said goodbye to the wonderful and magical city of Milan and headed south towards Modena. With a dose of trepidation, we rented a car, which proved to be an e-ticket ride to thrills, near spills, and excitement. Actually it was C R A Z Y. No offense to anyone reading this who is of Italian decent, but the drivers in this region are insane! To be fair, it's likely there is some blog being posted at the same time of this, stating how C R A Z Y American drivers are! That said, in all honesty, driving in Italy makes driving in any major metropolitan U.S. city look tame!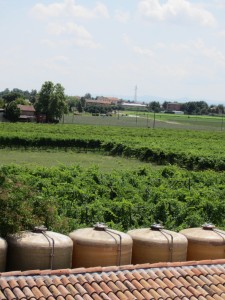 We decided our Italy trip would include exploring nature, wine, food, and balsamic vinegar! We had made advance reservations at Acetaia Leonardi Balsamic Farmhouse in Modena, and after several lost turns we finally made it to the beautiful vineyards of Acetaia Leonardi. We were late by an hour for our reservation, but it didn't seem to matter to anyone there. We were immediately treated to a tour of the property by Elana, a property tour host. Being a Modena native, she was informative about the area, property, and process of balsamic vinegar making. She playfully corrected my pronunciation of the region "Mo D Na"… and let me know it is "Mod-de-na." Who knew?!!!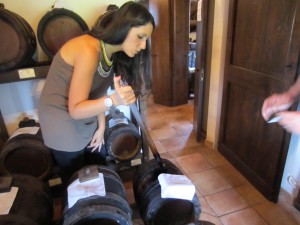 The property has been in the Leonardi family for four generations since the late 1800's and much of the processes and machinery is still in use. Our host spoke nearly perfect English as she explained the entire vinegar making process from harvesting the two types of grapes used; a white Trebbiano and a red Lambrusco, to the pressing, fermenting, and bottling.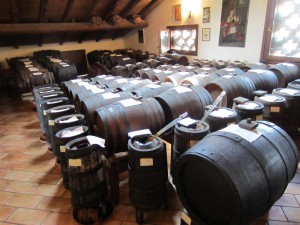 We followed Elana up rickety stairs into a naturally lit attic containing hundreds of barrels in various sizes, with vinegar in different aging stages. Barrels that had been on the farm for over 150 years were found in this room.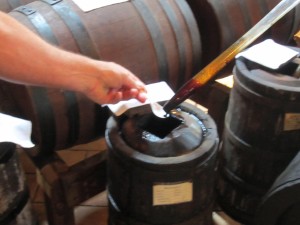 Elana suggested we try 5 vinegars in various stages of maturity. The difference in a newly barreled vinegar to one very mature was extreme, both in flavor and in texture. The oldest, a 100 year and a 30 year vinegar were both very thick, syrupy and sweet, and tasted unlike any balsamic we have ever experienced. Elana explained the older vinegars are meant to be savored and used sparingly, unlike the younger (3-10 year old) vinegars we also tasted that were more tart and meant to use for salads and dipping.  Our benchmark for balsamic before this trip had been mass produced versions purchased from retailers like Trader Joe's, and that was not an issue before being enlightened by this expereince at Leonardi.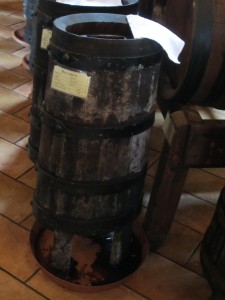 The pièce de résistance was experiencing a nearly 100 year old vinegar (the picture shown is a barrel from 1916) that was dolled out in a simple drip, yet in that small sample was pure heaven and a taste that is now imprinted on my mind (and tongue) forever!  I was curious how a vinegar could withstand being in barrel that long, and Elana explained the transfer process of small portions of vinegar moved from barrel to barrel to allow for flavors to be intermingled to produce a high quality product.  This explanation seemed to settle better with me that I wasn't tasting something that was entirely older than my grandfather!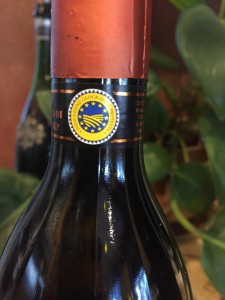 Elana offered information about how to buy balsamic vinegar and what to look for on a bottle  to indicate it's an authentic and traditionally made vinegar. The best information is to look for a bottle that bears the seal of guarantee it has been produced in the province of Modena.
Tasting a pure balsamic vinegar free from additives and caramel coloring is a joy for everyone to explore. One thing for sure, the type of balsamic vinegar I have been purchasing for years does not even come close to the vinegars tasted in Modena.
The Acetaia Leonardi Balsamic Farmhouse is still actively managed by lineage of the founding family, who now export their vinegar to the U.S.  We were told the vinegar can be found in many discount stores such as TJ Maxx, Marshalls, and HomeGoods, in addition to their own website.
With many choices from older to more commercially-made balsamic vinegar and other vinegar-made products, the Leonardi on-site gift shop was a perfect place to purchase a few bottles of heavenly balsamic to take home.
All I can say is that I will likely never buy another Trader Joe's balsamic vinegar again after this experience!
Ciao!
Jan