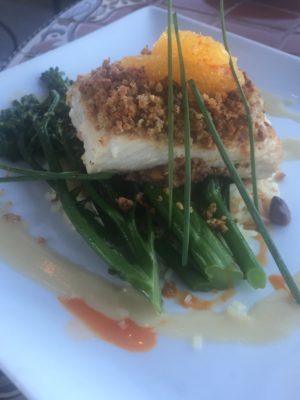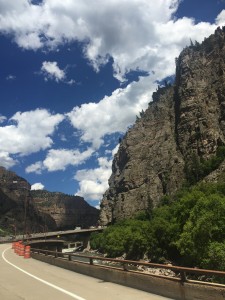 We headed to Denver, Colorado for a wedding reception in honor of my daughter and new husband, who recently married in Southern California Wine Country. It's a new norm now for my husband and I to road trip without kids. It signals a return to a lifestyle we had before kids, yet the many memories and experiences with our daughters in tow, as we traveled the world, will never quite be the same and will definitely be missed.
A big change with this road trip, unlike others in the past,  was the choice of restaurants we made along the way. Previously, traveling with family usually meant finding a chain restaurant that would have enough kid friendly items on the menu to satisfy the picky-food daughter, the pizza-loving daughter, and the meat-lover husband.  It was rare that a restaurant choice favored my organic farm-to-table taste bud…but in the end, the experience of being with my family outweighed eating well.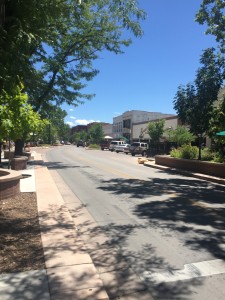 We decided to take our time and not drive directly through to Denver in a day (which is doable, but grueling), instead treated each other to a full day and night in the quaint town of Vail, Colorado. Leaving very early in the morning from Southern California, allowed us to arrive in Grand Junction, Colorado in time for lunch.  We had agreed upon a goal for this trip to find unique and interesting restaurants with names we didn't recognize.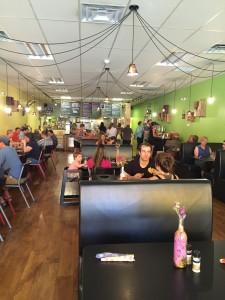 Google produced several suggestions from my "Foodie Restaurant Grand Junction, Colorado" search criteria from locals and travelers who offered authentic and candid reviews.  Given the buzz from many of these reviews, we settled on Cafe Sol, located in the Old Town district of the city. Nestled into the landscape of the quaint two lane Old Town was a canopied restaurant entrance with a few scattered tables and outside chairs.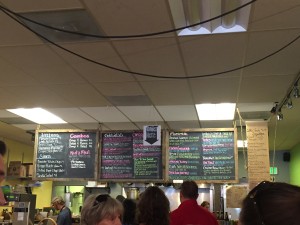 The immediate feel to this restaurant was cozy and friendly; somewhat like being in Mom's house with cute mix-matched cloth napkins on the tables. The open kitchen posted a huge blackboard menu with daily specials splashed on a large scroll along side the blackboard. The menu was fresh and creative with uniquely designed salads, panini's and cold sandwiches. This locally-owned and operated cafe sources local and organic ingredients for all of their menu selections. Noted on the menu were several gluten free choices.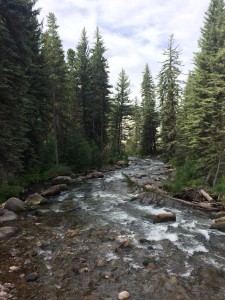 After enjoying a break in the drive and a nice meal at Cafe Sol we were back on the highway heading towards Vail. The drive, which crosses the Continental Divide, is absolutely breathtaking. Throughout the route, views of bright red rocks, deep canyons, and a beautiful full river, accompanied us from Grand Junction to Vail.
We easily found our hotel in the middle of Vail Village and our stay at the Vail Mountain Marriott Resort was the perfect solution to unwind from six months of wedding planning. It's impossible not to be calmed by the rushing river behind the resort and the green pastures that surround the property.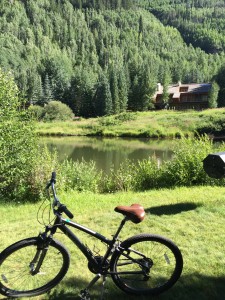 After getting settled in to our room, we headed to Vail Village by foot, window shopped for awhile, then, on a whim, rented bikes and with a map in hand, easily found the well-marked and designed bike path.  The path wound past various resorts and timeshares, ski lifts, million dollar homes, a golf course and the gorgeous Eagle river.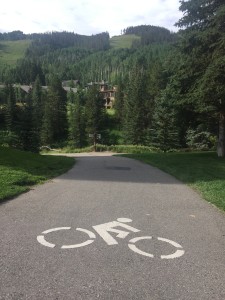 We were so impressed with the way the city has designed the bike paths, making it transparent where one property begins and the other ends. It felt like one big neighborhood, and as we traveled on the path, there were friendly waves and hellos from those on bike and foot.  This friendly atmosphere certainly exponentially increased our love for this city!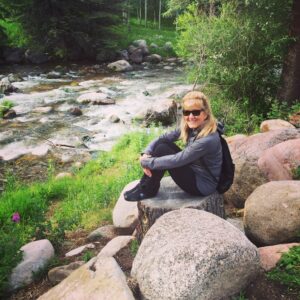 We stopped for a water break and pulled out the phone to search for another "Foodie Restaurant" for dinner that netted several suggestions nearby. Feeling a need for Italian food, we decided on La Bottega, situated in the heart of Vail Village.  This was an easy walk from the resort. The city also has a free shuttle that runs through the two villages of Vail and has numerous pick up and drop off locations for those who don't want to walk or drive into town.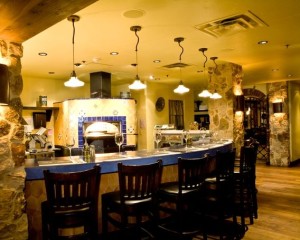 As the sun set, there was an immediate chill in the air, so we decided to sit inside at La Bottega. There was an immediate feeling of hospitality as we entered the restaurant; warm, inviting and gracious. Our table faced the open kitchen where chefs were working on items being cooked in the massive wood-fired pizza oven.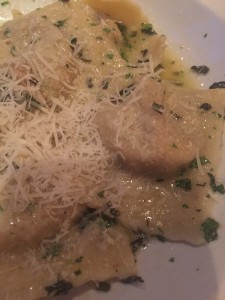 The restaurant menu was reminiscent of what we have seen when visiting Italy, and the moment I noticed a handmade porcini mushroom ravioli with a browned butter sage sauce on the menu, I looked no more! We started the meal with a generous antipasto and a few glasses of Chianti. The meal was perfectly prepared, the ravioli melted in my mouth;, the al dente pasta was perfect. The restaurant was surprisingly unpretentious and we were able to quickly relax after our full day. We walked the mile and a half back to the hotel through the dimly lit alleyways, feeling completely safe.
We could have easily stayed longer, but Denver was calling, so off we went early the next morning. Denver is an easy 2 hour drive from Vail, and we reached our destination with plenty of time to relax before the reception.
Our short stay in Denver culminated in saying goodbye for now to our daughter who will soon be moving on to another state to start her new life as a married women. To be truthful, as a parent there is nothing easy about this process, and for most of the next day as we headed back towards Southern California, I didn't have any reason to do a Google "Foodie restaurant" search; I had left my appetite back in Denver.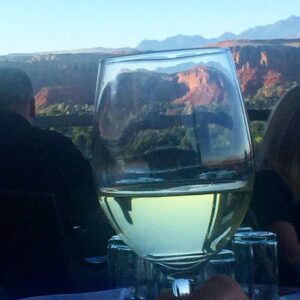 Yet, nature has a way of reminding us it's time to nurture our body, so by the time we were nearly at our next destination, St. George, Utah, my stomach was growling, and I was hungry. We hoped for another successful dining experience through our "Foodie Restaurant" Google search, and when Cliffside Restaurant surfaced, we knew we would be batting 1,000 on restaurant choices.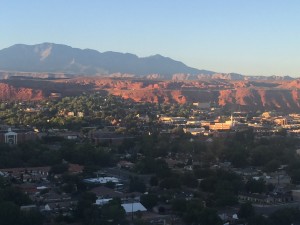 The restaurant is located on the cliff above the main boulevard, overlooking the scenic St. George valley. From the street, the restaurant isn't overly impressive, but from the moment you step inside, the view is captivating. Given the beautiful evening, we decided to sit on the patio; great choice as it is designed to create an illusion that it is hanging over the cliff. Our table looked in the direction of the mountains close by, and we watched during dinner as the colors of the mountain changed with the setting sun.
The menu was nicely designed with unique offerings. We started with a fresh hand-pulled mozzarella and vine-ripened tomato, basil pesto, balsamic, soffrito oil, & house made crostini appetizer paired with a glass of crisp Pinot Grigo, perfect for the slightly warm evening. Dinner choice was a beautifully plated Seared Salmon Salad with fresh berries, toasted almonds, cojita crumbles, crisp greens, cucumbers & balsamic vinaigrette and a Macadamia Crusted Mahi Mahi filet, coconut jasmine rice, orange segments, & citrus butter sauce.
We couldn't decide if we like the view better than the meals, and settled on a tie for both.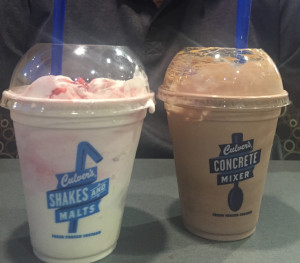 On the way back to the hotel we passed Culver's Frozen Custard shop, and decided we had a little room left for one of their yummy frozen treats.  As we do not have this gem of an ice cream shop in Southern California, "foodie search" or not, we were stopping!
From here on, our road trips will always include a Google "Foodie Restaurant" search, as the results on this trip were perfect. It's the raw, organic, and unsolicited comments of foodies who enjoy amazingly prepared fresh food that write blogs that people like me search out.  These type of reviews trump the sometimes fabricated or purchased postings on the well-known restaurant review sites that are not always accurate.  I'll always look for an honest suggestion on where to spend my culinary dollars.
Cheers!
Jan