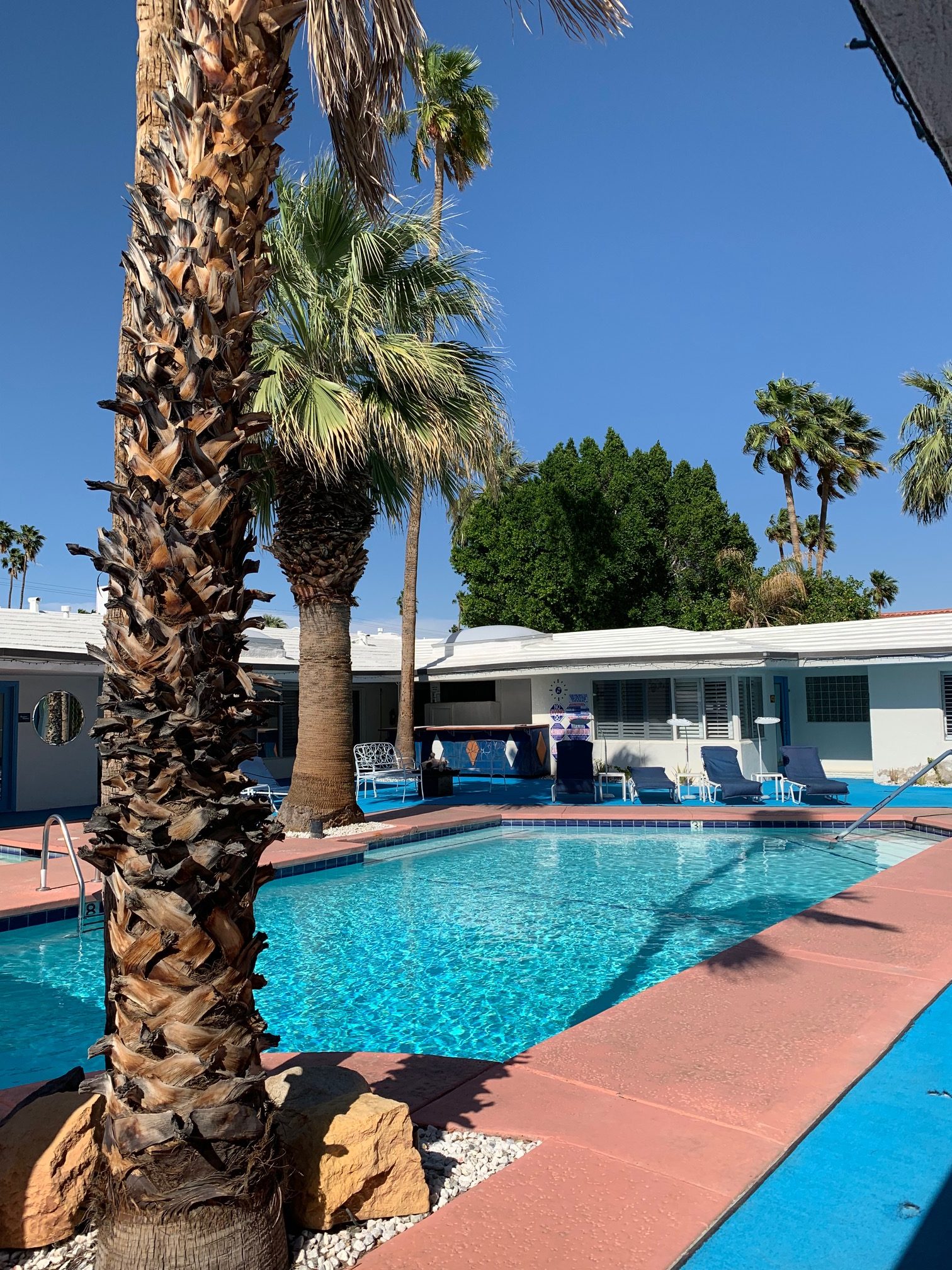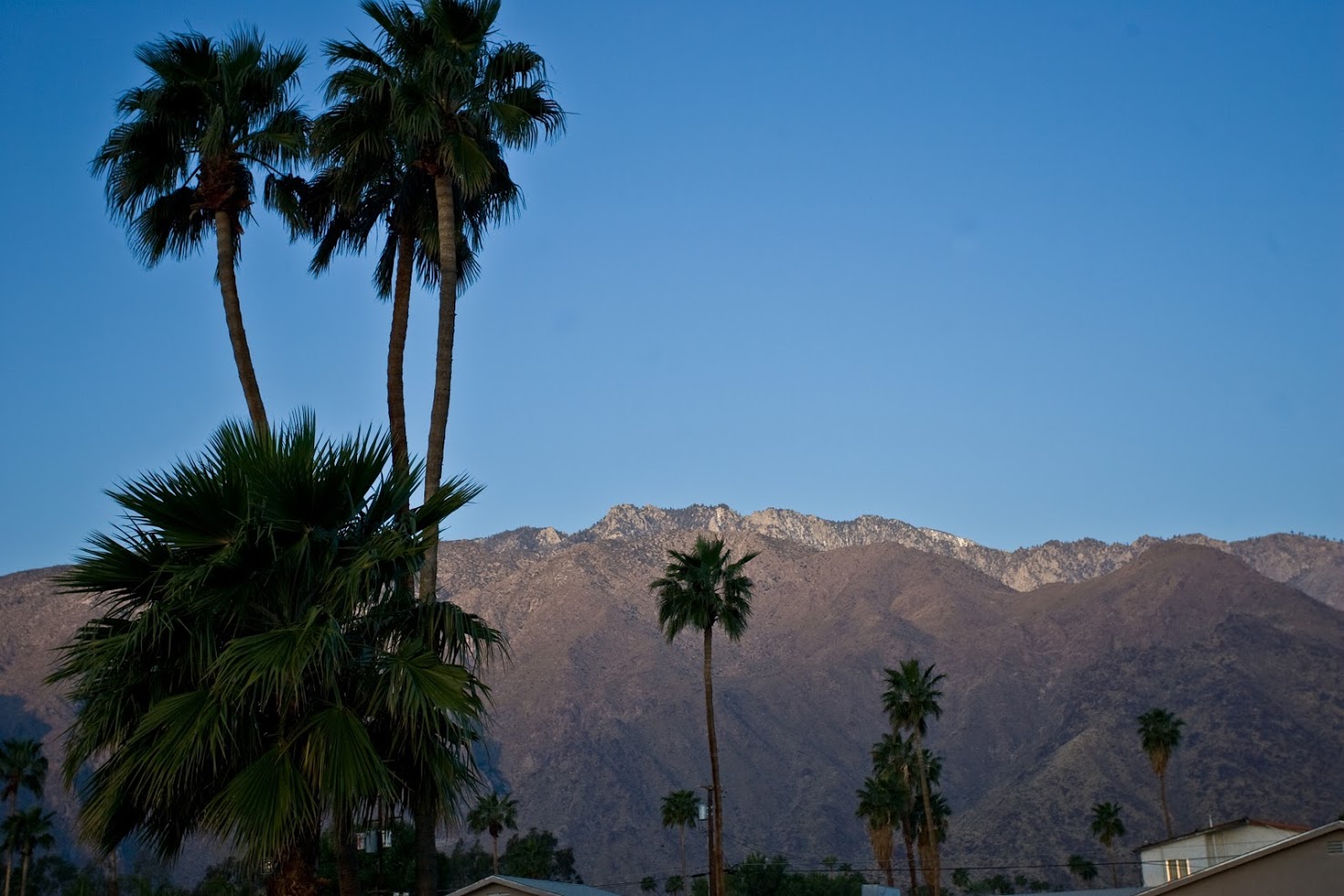 It was the spring of 1975, and folded notes were being passed between classmates during high school homeroom announcing Palm Springs the destination for spring break. My brand new orange Honda Civic sped down the highway for a first-time visit to the desert oasis. I can still remember arriving at the Palm Springs Travelodge to a spectacle of shoulder to shoulder teenagers bobbing in the pool with their picture-perfect Coppertone sunburns.
That first spring break visit was an introduction to what is now been a nearly 45-year love affair with the desert. The breathtaking views of palm trees swaying in the wind, framed by the beauty of the Mt. San Jacinto mountains, is as remarkable today as it was in the '70s. Time has changed many things about Palm Springs since my first visit, but it has not changed its authentic self.
Sometime in the early 90's, a slow decline in tourism (due to neglect of the downtown corridor), seemed to shift tourism elsewhere in the desert. This is when my family found neighboring Palm Desert, with its new resorts, restaurants, and shopping. Palm Springs refused to let the decline slip any further and since 2010 has invested over 400 million dollars in a revitalization of what is now referred to as, Palm Springs Downtown. Today, the area has returned to its glory as a premier tourist destination, and is the hip place to visit.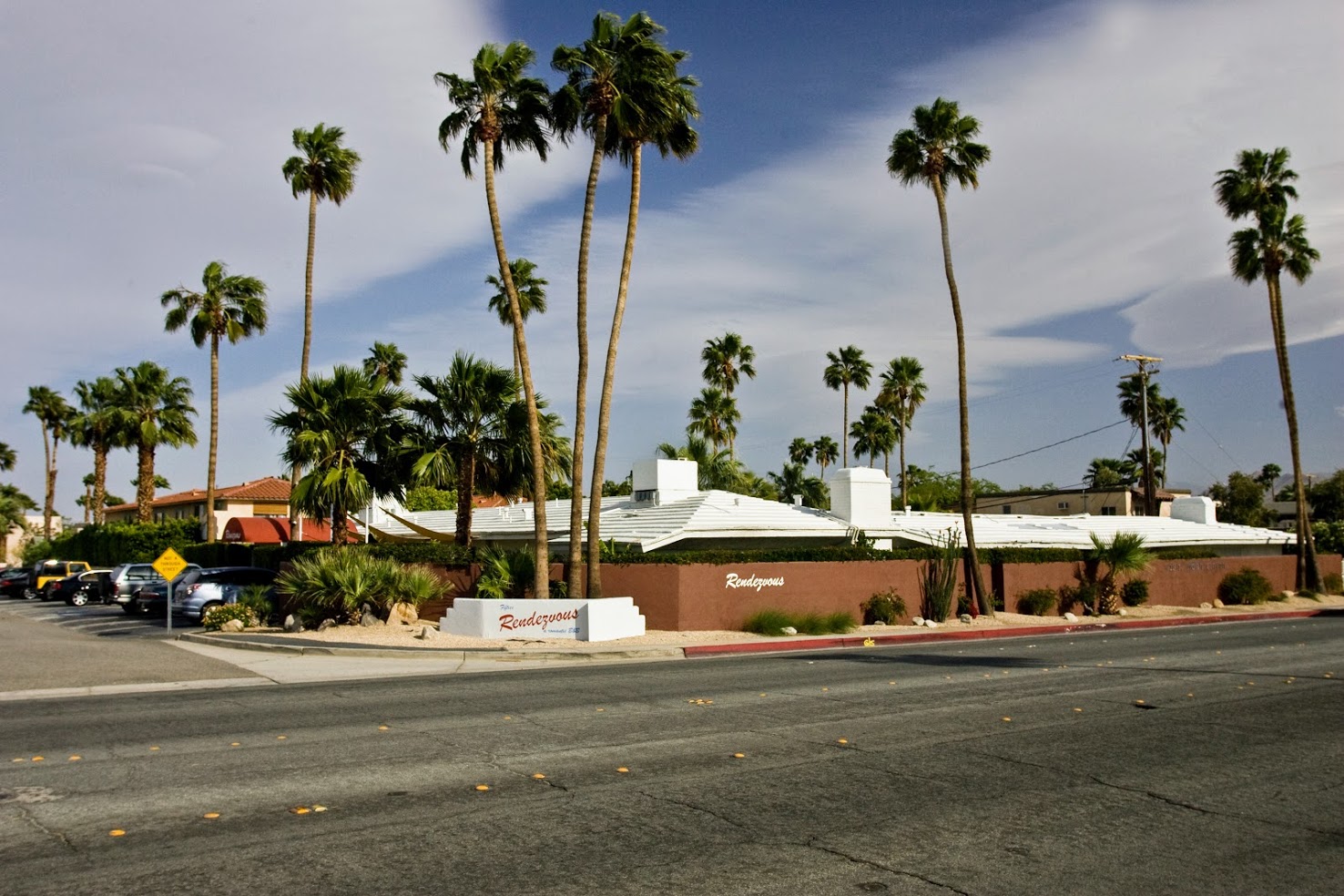 Palm Springs offers a mix of contemporary lodging and an honest homage to mid-century modern architecture and authenticity, with its charming small boutique hotels. This lodging option provides a genuine throwback to the Hollywood glamour days when film and music elite retreated to Palm Springs to rest and relax in the privacy of the small boutique hotels.
Contemporary and mid-century modern lodging is not the only hospitality- related industry catching the attention of visitors to the valley. Independent restaurants and supper clubs like Eight4Nine and Michael Holmes' Purple Room are drawing crowds from across the generational spectrum.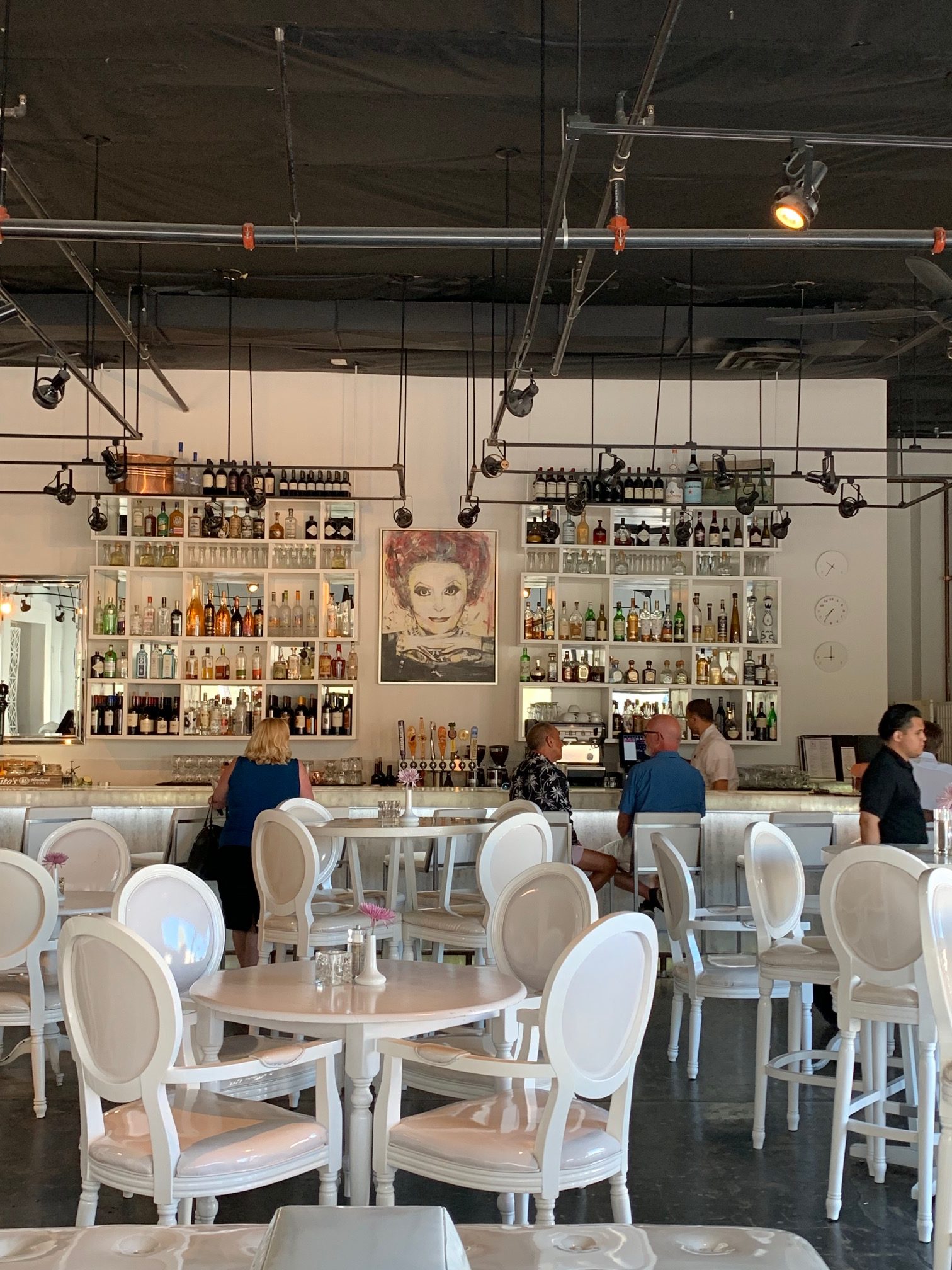 A recent visit to the exciting Eight4Nine restaurant offered a creative tasting menu and wine pairing. When I excitedly shared with my millennial daughter the culinary find, she replied, "I've been there, it's the absolute best." So much for getting ahead of her on the desert food scene.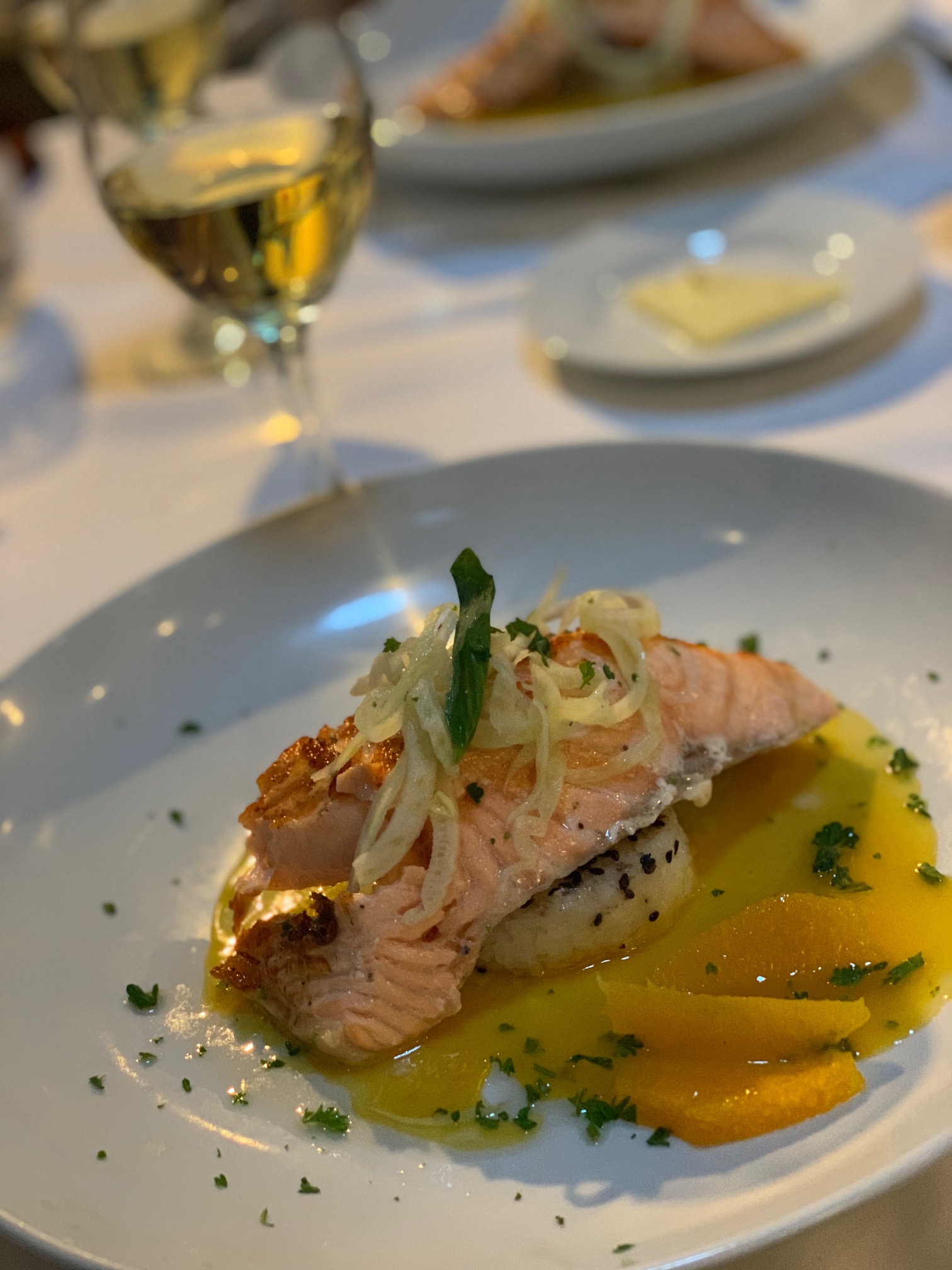 The restaurant is part of the revitalized Uptown Design District and housed in what was a previous post office turned consignment shop. It's a mix of eclectic décor and various room configurations. Chef Israel Jimenez creates inspiring food using local fresh ingredients, but he'll say what makes it amazing is a combination of ingredients and pride in the preparation of his creative plates.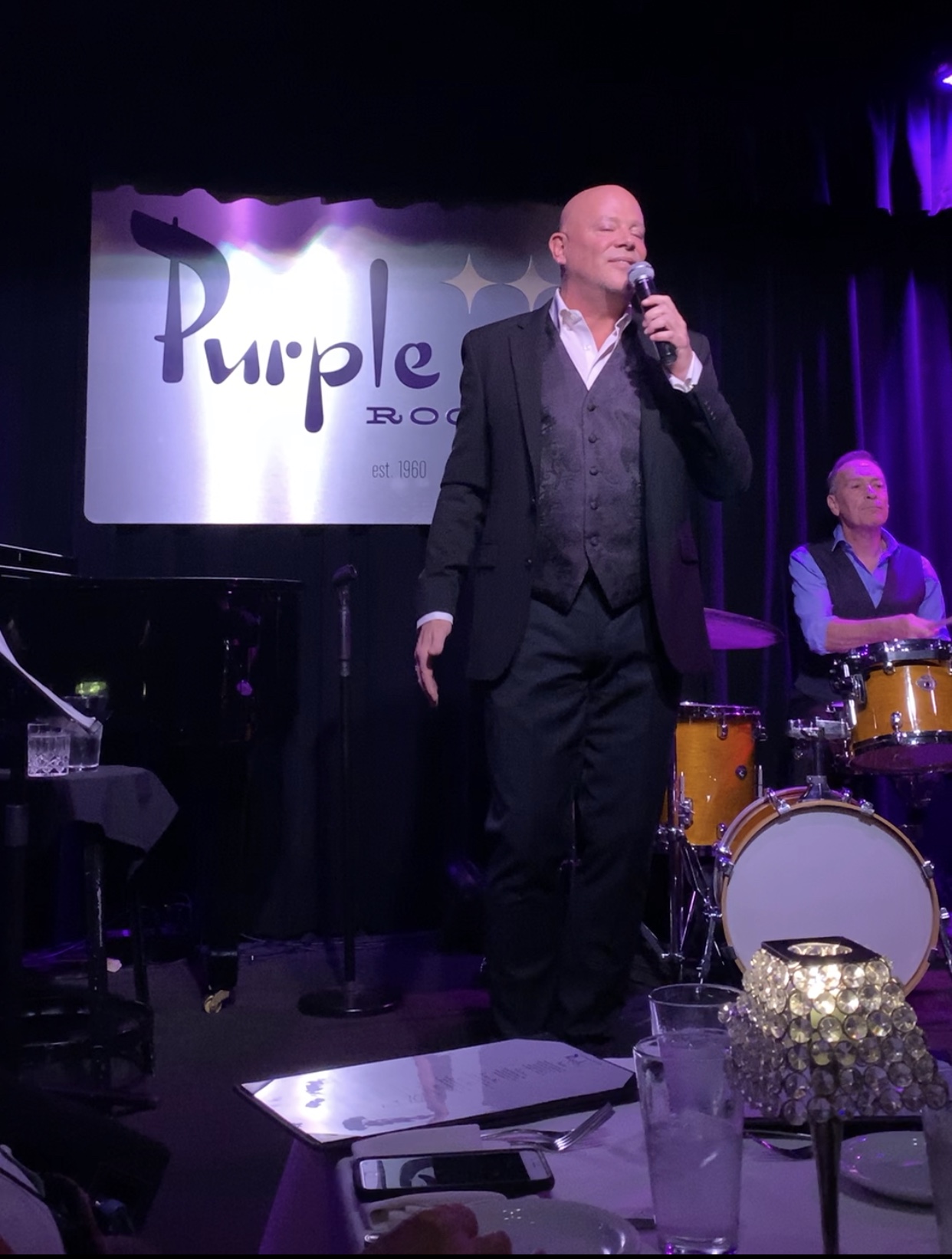 A visit to the desert's premier supper club, Michael Holmes' Purple Room, is a fascinating study of different generations enjoying more authentic Palm Springs culinary and entertainment offerings. Opened in the '60s, Michael Holmes' Purple Room offers various weekly acts, including music from the Rat Pack era. A quick look around the room confirmed demographics running the gamut of Millennials to Baby Boomers and beyond. All were equally enjoying the '60s entertainment and dinner at this unique dining experience.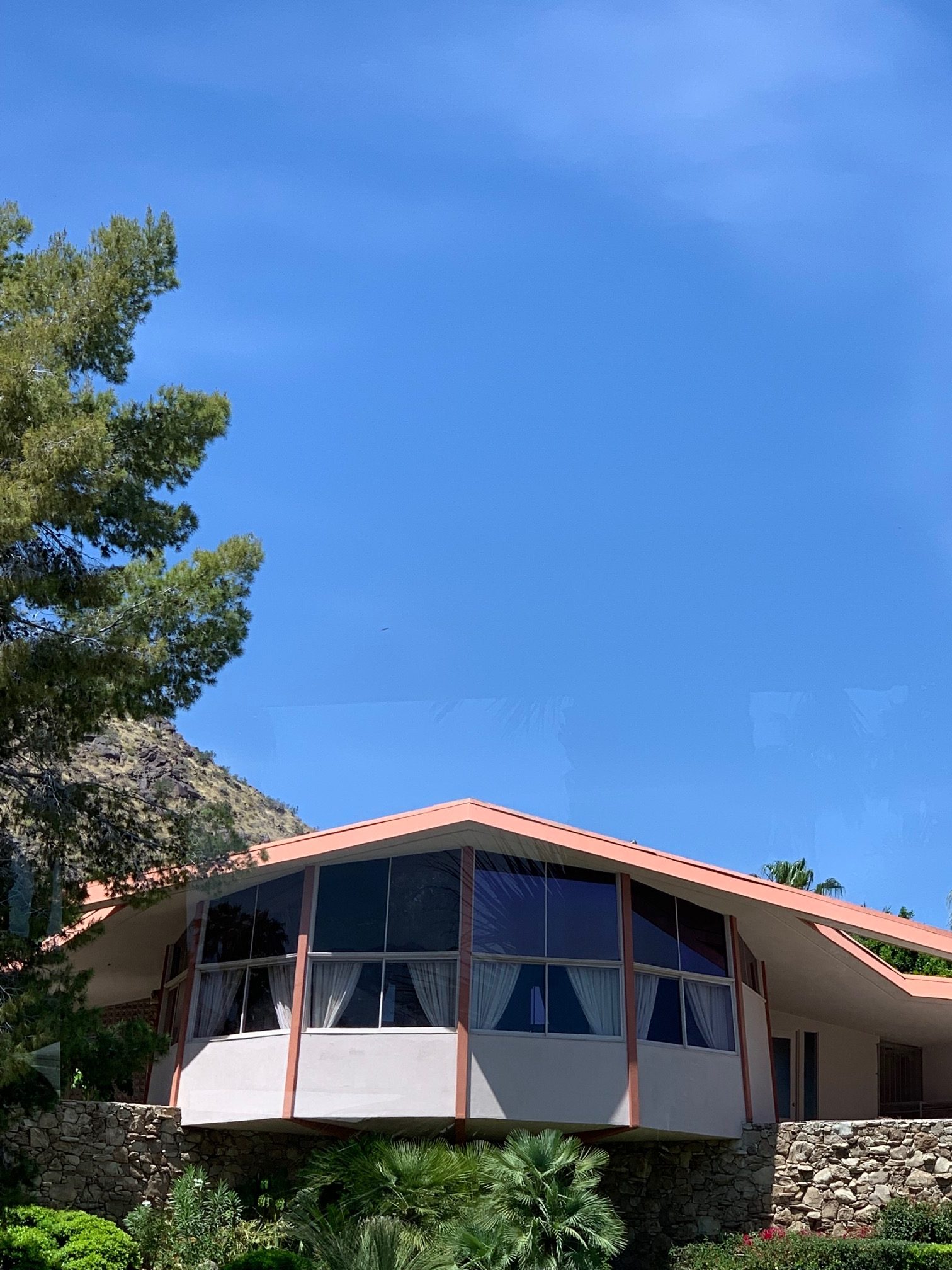 A resurgence and renewed interest in authentic mid-century architecture have been a significant boost to Palm Springs. According to architect Marc Sanders, "Palm Springs has the largest concentration of mid-century architecture anywhere." It's no wonder Palm Springs is on the map for architecture tourism. An entire brand of mid-century modern architecture and historical significance has spotlighted Palm Springs back into relevance.
One way to experience the mid-century architecture is on Palm Springs Celebrity Tours. This is a respectable two-hour tour of numerous homes, neighborhoods, and buildings from the '30s, '40s, and '50s. Our driver, Jeff Swanson, has been at the wheel for the past 35 years and offers an entertaining and informative tour.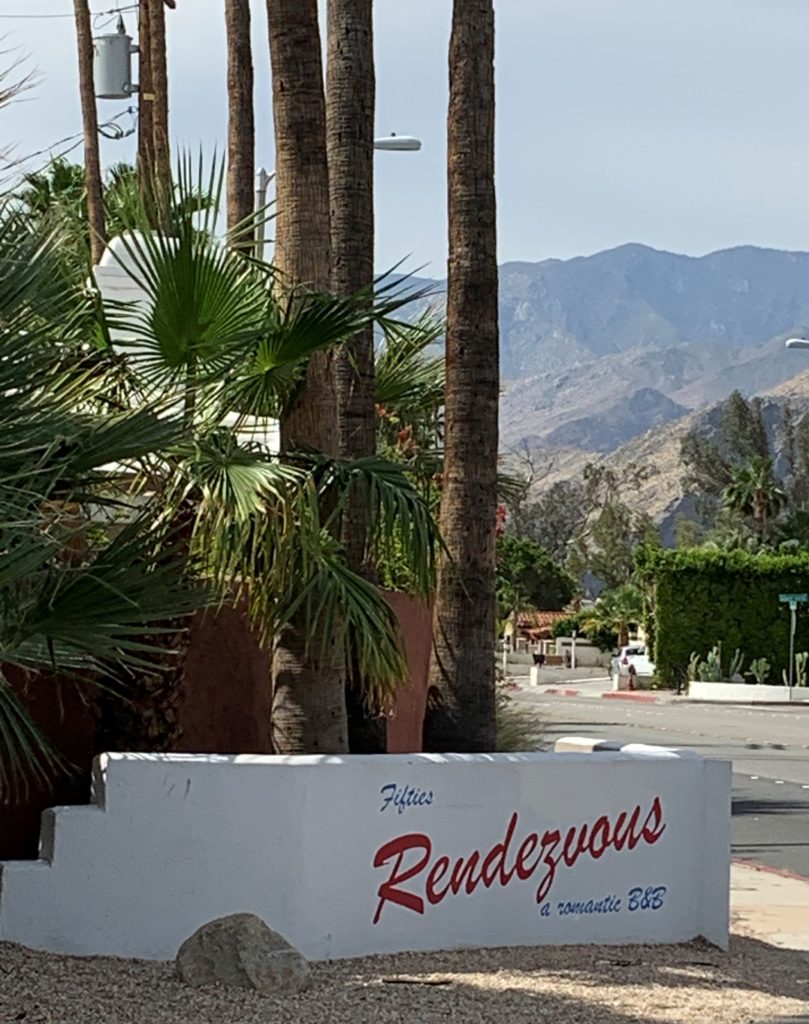 My family routinely stays in luxury resort brands when visiting the desert. This is due primarily to my road-warrior husband who routinely scores hotel points. I recently had the opportunity to experience a different type of lodging with a stay at the Palm Springs Rendezvous Hotel, one of the 77 boutique hotels that are part of the Preferred Palm Springs Small Hotels collection in the valley.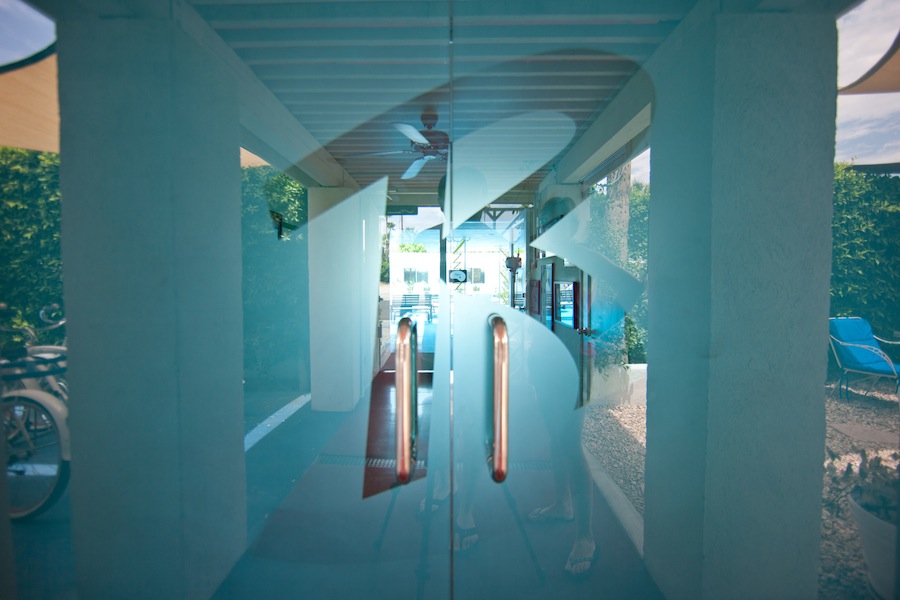 I had no idea what to expect, but the moment I walked through the azure glass doors, a timeless elegance came to mind.
No bellman waiting to take your bag and no splashy lobby, just a small sign directing you to the office in the far corner of the patio. I was greeted by Kevin, the Assistant Innkeeper, who greeted me like we were long lost friends. He shared interesting tidbits about the property and its amenities.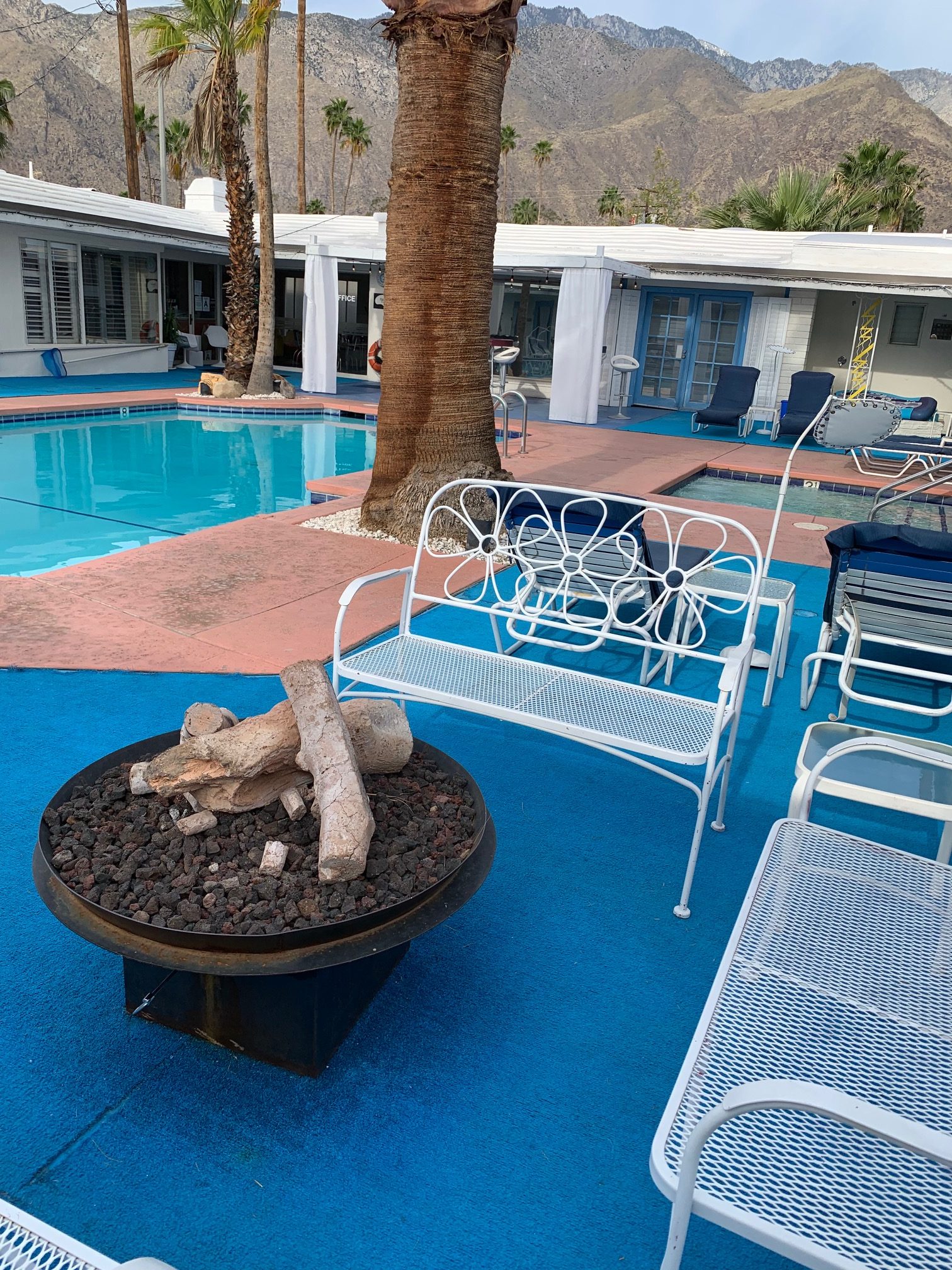 After offering a refreshing drink, Kevin escorted me past the uncrowded pool (which was calling my name) to a corner room on the far end of the property. A request to join the other guests at the afternoon reception was offered.

Once unpacked, I headed outside to make friends with the couple who waved from the middle of the pool as I walked to my room. I found out they were from Southern California and this was the fourth time they had stayed at the Rendezvous, each time selecting a different room. Asking why they chose this style of lodging, they waved their hands in the air and commented, "Look around, it's peaceful and relaxing, there is no problem finding a pool lounge, and the hospitality here is exceptional."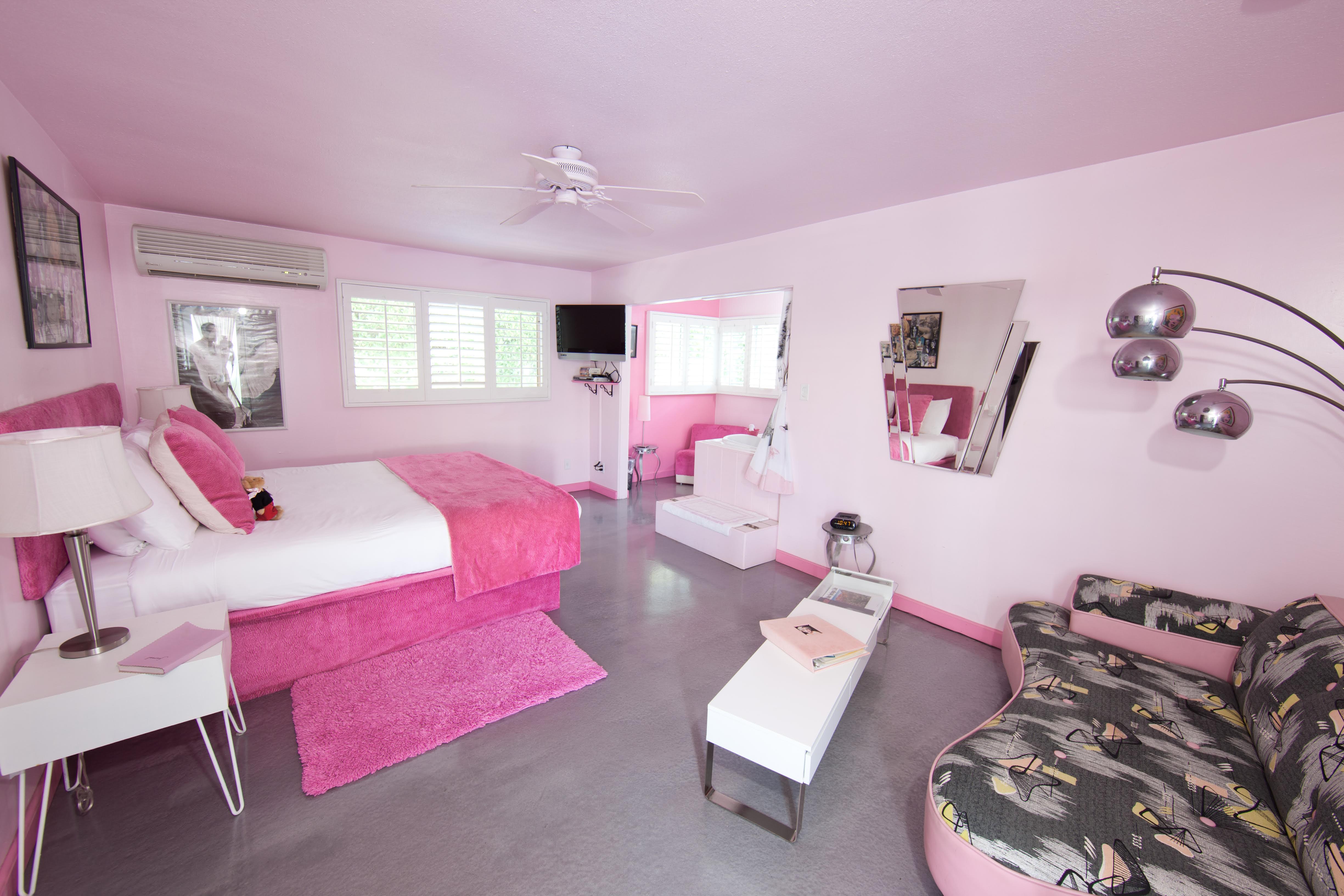 Opened originally in 1938 as the Mira Loma, the hotel was often patronized by Hollywood elite looking for privacy, rest and relaxation. Entertainment history buffs will be interested to know Marilyn Monroe often stayed in the far southwest corner room, which offered a respite from the public and paparazzi. Today it is referred to as the Pretty in Pink room featuring numerous Marilyn Monroe photos and artwork. This would be my abode for the next few days. The room is filled will everything pink, and is situated in the original bank of rooms built before the hotel's renovation in the 1950s, which doubled the number of rooms. It is nicely maintained and still possesses the character and design of the original boutique hotel model. A total of ten retro-themed rooms, each with a private poolside entrance, comprise this motor-lodge style property.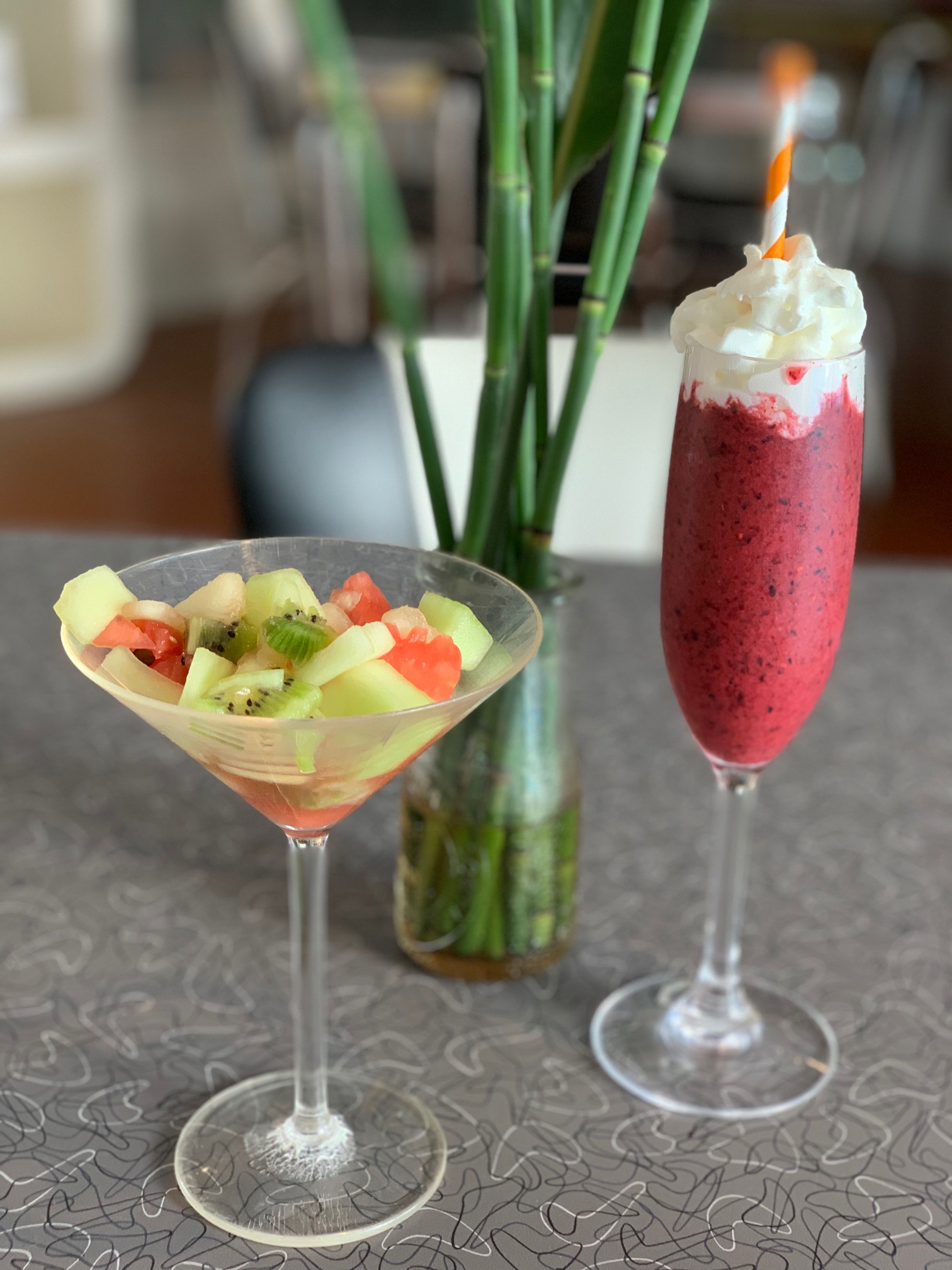 As the hotel is designated a Bed and Breakfast, guests are treated to a three-course homemade breakfast served either poolside or in the 1960's retro designed dining room. Innkeeper Wayne Weiseler delivers a creative egg entrée, accompanied by a fresh fruit plate, smoothie, and freshly ground coffee. I sat with a young honeymooning couple from France. They shared details of their two month road trip, starting in San Francisco, eventually ending in Utah. I asked why they included Palm Springs on their itinerary, and they answered, "It is iconic Southern California." When asked how they selected the Palm Springs Rendezvous Hotel, they described Googling "authentic Palm Springs boutique lodging," and the Rendezvous was the highest-rated match on TripAdvisor.
According to the Innkeeper, the typical guest demographics range from young millennials to seniors and everything in-between and the guests are coming from national and international locations. The hotel is a perfect choice for visitors looking for a boutique hotel experience, with exceptional hospitality and the opportunity to meet fellow guests from around the world.
The Rendezvous is located close by to Palm Canyon Drive and the Uptown Design District, featuring restaurants, bars, art galleries, and shopping. Most recently contemporary retailers like H&M, Free People and West Elm, as well as an upscale Starbucks "Reserve" have taken up residence in the District.
My love of the desert, specifically Palm Springs, remains after all these years. Introduced to a new style of lodging through Preferred Palm Springs Small Hotels, I have found the authentic Palm Springs. The city is embracing its retro roots, and there is something for every generation to enjoy at this destination.
Consider adding these Palm Springs activities to your next visit:
The Moorten Botanical Garden; beautifully designed array of cacti and succulents.
The Palm Springs Aerial Tramway; a rotating floor quickly ascents to the top at 8,500 feet and offers an experience unlike any other.
VillageFest; held every Thursday night on Palm Canyon Drive with food, art, and various vendors.
Indian Canyons and Tahquitz Canyons of the Agua Caliente Cahuilla Indians; Various trailheads, palm groves, and waterfalls.
If you go:
www.palmspringspreferredsmallhotels.com
www.palmspringsculturalcenter.org
Disclosure: This trip was offered as part of the International Food, Wine and Travel Writers Association press trip and I was a guest of the Preferred Palm Springs Small Hotels. I confidently share my honest experience and opinions.