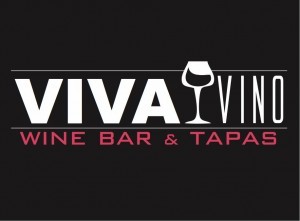 Sometimes there is an immediate and organic appreciation for the marriage between wine and food.  A city trying to make its mark on the culinary map in Southern California is Temecula, located just about a hour drive from the major tourism hubs of San Diego, Orange County, and Palm Springs.  With its new restaurant offerings, experienced and up-and-coming chefs, Temecula now offers plenty of opportunities to enjoy and develop an appreciation for wine and food through various pairing  dinners available in Temecula's beautiful Wine Country and Old Town district.
I recently had the pleasure of attending a 5 course Wine Pairing Dinner at Viva Vino, a Temecula-based wine and tapas bar. On hand was Chef Antoine Marengo, former Owner/Chef of Parea Restaurant in Temecula. Chef Antoine has impressive and extensive culinary experience with 4-star resorts, including Hyatt Regency and Four Seasons.  For the pairing dinner, he created an impressive Euro-style menu, with a nod to his Mediterranean roots.
Viva Vino, with its softly lit dining area has good energy. Paintings of local artists dot the walls, and with only  a few tables, the intimate vibe is perfect for this special dinner experience.
The selections were carefully created by Chef Antoine to pair with wines from Spain, Argentina, and the Sonoma Valley in Northern California. I would have liked to experience wines from the local region, but after the dinner experience, I understood why Chef Antoine selected the wines for each course.
Dinner began with a unique Amuse-bouce, (Chef's hors d'oeuvres choice), of a mini portobello mushroom filled with an combination of goat cheese mixed with a roasted garlic and wild mushroom blend spice from the Old Town Temecula Spice Merchants (located a few doors down from the restaurant), topped with dried cherry and roasted walnut.  Chef Antoine paired this with a sparkling white blend from Argentina.
The first course was a treat I had yet to experience; Saganaki, a pan fried sheep cheese, with a splash of ouzo, which was beautifully flamed at the tableside presentation by Chef Antoine. Served with tender pita bread, it was a perfect course to begin the night. An Elsa Bianchi Torrontes from the San Rafael region of Argentina, a crisp and refreshing fruit intensive wine, was paired to compliment the mild melted cheese.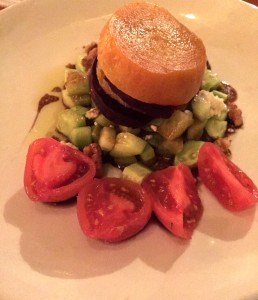 A artistically stacked tower of roasted yellow and red beet and heirloom tomato over citrus mint-infused skinless tomatoes, cubed cucumbers, goat cheese, aged Balsamic vinegar perfectly distributed, and a topping of roasted walnuts, was selected for the 2nd course. I didn't want to rework the beautiful presentation with my knife and fork, but soon admiration succumbed to curiosity of how these ingredients would taste.  This course was as delicious as it was creative. Chef selected a Two Angels Sauvignon Blanc from the Sonoma Valley region to pair with this course.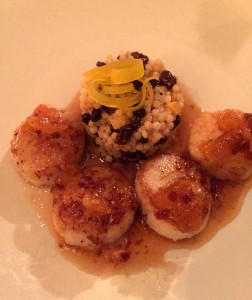 Course 3 was a beautifully prepared seared scallops dish. Fortunately for my dining partner and myself, she does not eat scallops and I do not meat, so we scored on each other's portion of this and the next course. Perfectly prepared scallops with citrus honey ginger sauce and apricot chutney, accompanied by a surprise cold Mediterranean pearl couscous with fresh organic mango, red onions, currents and raisins was presented. The Chef selected a Corralillo Pinot Noir for this course.  A big bold Chilean wine, with hints of black cherry and cranberries was a perfect choice for this course.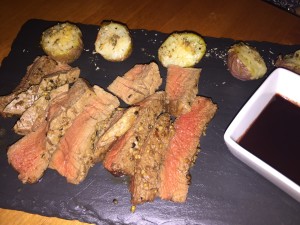 The 4th Course was an aged grass-fed Filet Mignon with parmesan herbed potatoes lightly rolled in black truffle butter and was paired with a Famiglia Bianchi Organic Malbec from San Rafael, Argentina.  A hearty wine that my dining partner indicated paired nicely with the beef.  Although I was not partaking in this course, I did try the wine but found for my palate, it was more full-bodied and spicy with strong tobacco notes than I enjoy.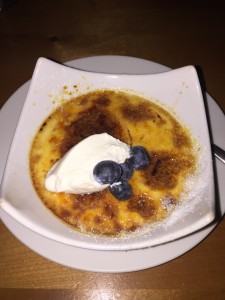 I had left just enough space in my stomach for the pieces de resistance- Creme Brulée. Chef Antonine prepared a wonderful vanilla bean brulée finished with sweet mascarpone whipped creme and fresh blueberries. This final course was paired with a Two Angels Cabernet, a well-balanced wine with
dark fruits, cherries and hints of chocolate and vanilla on the nose, from the Sonoma Valley.
It is said "In wine there is truth," and Chef Antoine's wine and food selections were truthfully, fantastic!
Viva Vino is open for dinner Wednesday – Sunday and lunch on Saturday and Sunday. Wine and dinner pairings are held monthly and reservations are suggested.